Mexican Style Home Bar Title Goes Here
6.11.18
Reproduction Bar for
Cozy Santa Fe Retreat

Our clients came to us with their plans for a free-standing room for entertaining in their backyard. La Puerta Originals was tasked with creating a Mexican-style bar to fill the back wall of the room. The front has French doors that can be thrown open so that the room feels a part of the backyard, which is planted with trees, flowers and climbing vines.
La Puerta Originals started with these hand-turned antique balcony rails that would become accent legs for the bar.
Then the carving began. Lots of carving. Not just of the cabinet panels, but also little accents here and there.
A hand-rubbed mesquite inspired finish was applied, which was then highlighted with blue accents. Look at those gorgeous cabinet door panels!
While it looks like an antique Mexican bar, it features several modern day conveniences. The hand carved cabinet doors conceal an ice maker and refrigerated drawers, and there is a cast bronze sink in the top.
Finished and installed with a Mexican tile background, the bar is gorgeous and festive, ready for a celebration, or just margaritas for two, while lounging in the backyard.
Another La Puerta Originals functional work of art!
SaveSave
SaveSave
SaveSave
SaveSave
SaveSave
A Few New Entries Title Goes Here
4.25.18
Here are some custom front doors that were completed last month. As with everything we do, our doors are designed in collaboration with our clients, resulting in a finished product uniquely theirs.
First up are two arched doors, with the arch being where the similarities end.
The arched double doors are made with antique mesquite panels (with the original iron clavos) and salvaged lumber. This is the panel you see in the left side of the door.
An astragal runs down the middle, the ends of which are adorned with finials from an antique dowry chest. The obscure ripple glass is covered in hand forged grillwork. New iron clavos accent the finished doors.
The back of the door nicely frames the backsides of the mesquite panels. There are more clavos, as well as head and foot bolts.
The second arched door is a single door with a windowed transom and sidelights set with clear glass. It was crafted using salvaged lumber and antique woods.
We also had a rustic pintle-hinged door come out of the shop. It was made using an antique carved door with surround that was widened with salvaged lumber.
The back of the door has the original wear and patina. What was a somewhat fragile piece was stabilized and strengthened, becoming a solid, functional piece of art.
The pintle-hinge can also be referred to as a pivot. Shown here in action, you can see that it makes for an exceptionally unique front entry.
Speaking of unique front entries…this peaked version is a first. The closest thing we have done was this door from a number of years ago, that had a peaked transom.
This new door features a mix of obscure glass and hand forged floral pulls.
You get a peek of the curls at the bottom of the pulls through the back of the door.
Next up are two custom doors with grilled peeps.
The first was made using an antique mesquite door with the original key plate and flat head iron clavos.
The antique door was framed with salvaged lumber and iron L-straps. Sidelights are fitted with clear, tempered glass. The peep has a classic hand-forged grill.
The back of the door nicely frames the mesquite panel, and also features the iron L-straps.
The second door with grilled peep has an oblong peep with a kind of basket weave grill.
This is a very handsome, solid door, made entirely of salvaged lumber. Ultimately, it will be accented with a good number of large iron clavos.
Our final front entry features a grilled and screened shutter. Perfect to catch the fly-free breeze.
Made from salvaged wood, the door features thick-head iron clavos and a custom grill.
That's it for this time. Check back later for more exciting one-of-a-kind pieces coming out of the shop!
SaveSaveSaveSave
SaveSaveSaveSaveSaveSaveSaveSaveSaveSave
SaveSave
SaveSaveSaveSave
SaveSave
Classic Santa Fe Blue Gate Made with Reclaimed Wood Title Goes Here
11.2.15
A custom Santa Fe gate is crafted with salvaged wood, an antique panel, custom grillwork and hammered reclaimed tin.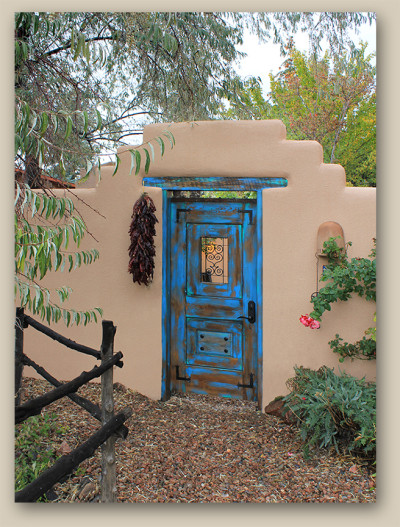 Our final entry in this series features a classic Santa Fe gate. You see blue accents all over Santa Fe – doors, window trim, shutters, columns & corbels, tiles, and, yes, many gates. It is said that long ago, doors and windows were painted blue to ward off evil spirits. It is now a design aesthetic that is part of Santa Fe style.
We start off with the site photo – the "before" shot, with a purple gate and peachy stucco.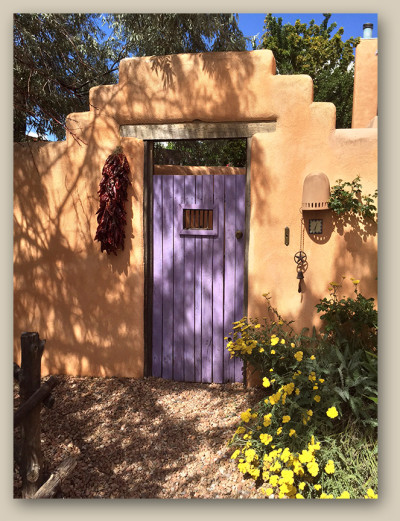 As I mentioned in the last post, clients usually peruse our library, looking at and marking different styles, colors and elements of previous work. The new gate was inspired by a gate we had done a number of years ago, seen below.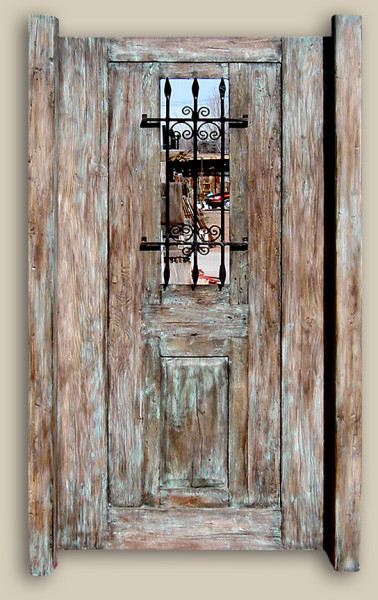 That gate was made with an antique Mexican door that was widened with reclaimed Douglas fir. It had an operable shutter (shown open) that was covered with custom iron grillwork. This is the jumping off point for the new design.
The existing header is retained – refinished with color applied – and a 3″ clearance built in to the gate to accommodate gravel and uneven terrain. The clients' house features blue trim, and they wanted that incorporated into the new gate. The gate was constructed using an antique panel and reclaimed Douglas fir.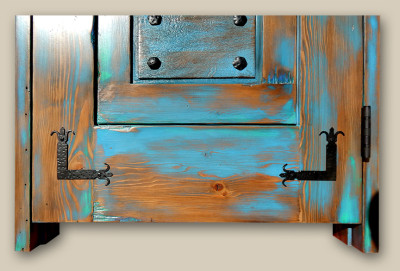 It was fitted with iron L-straps and clavos, and the top of the gate trimmed with hammered, reclaimed tin.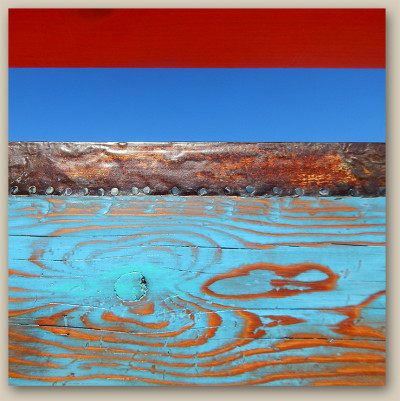 Custom iron grillwork lines the window, and the cast entry set features a deadbolt with a tear drop key flap.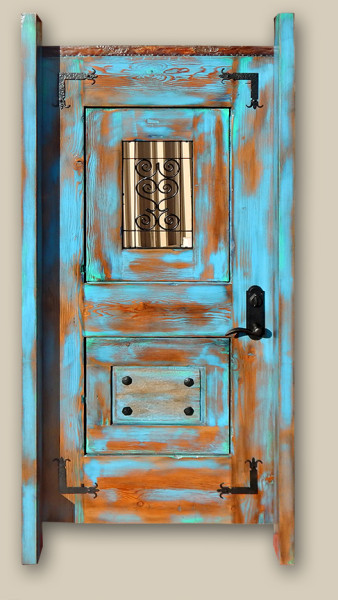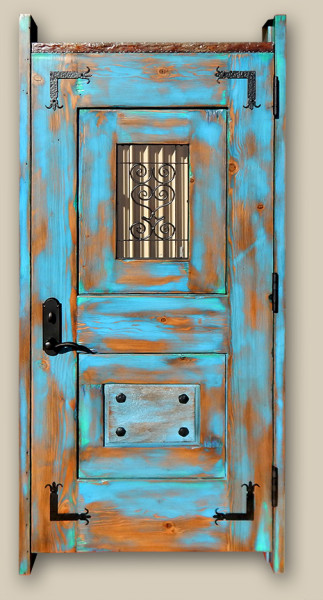 The house and wall have since been re-stuccoed, and the new gate is installed!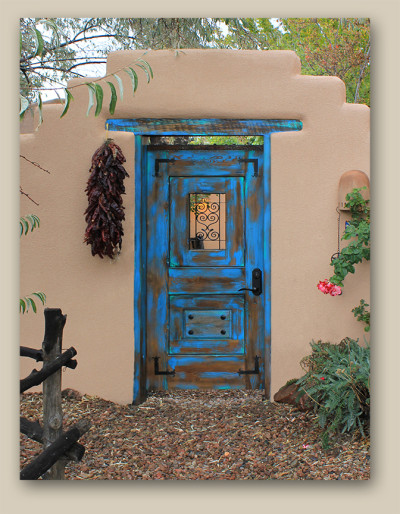 Custom Tower Entry Gate Made of Reclaimed Wood Title Goes Here
10.28.15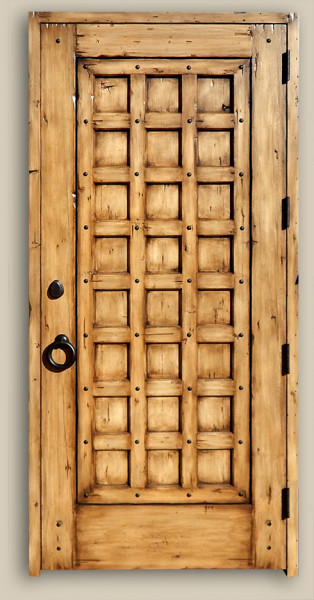 Here is the 2nd to last gate in this series of gate posts. My aim is to highlight the variety in just these four gates, as a taste of the possibilities of custom elements. Because we are a custom manufacturer we make each piece, whether a door, kitchen cabinet, vanity, bed or gate, by hand, specifically for our clients. This means that each piece is as unique as our clients and their homes.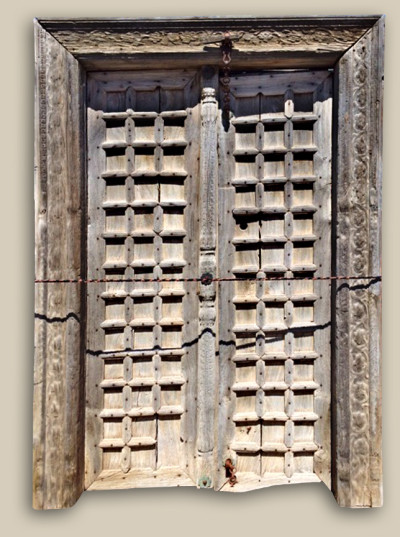 As a part of the process at La Puerta Originals, clients visit the antique yard.  We have 4+ acres housing architectural salvage, corbels and columns, reclaimed barn wood, eclectic antique pieces, recycled iron and tin and much more. While touring the salvage yard and looking at elements, we discuss architectural style and provenance, and how material can be incorporated into new creations.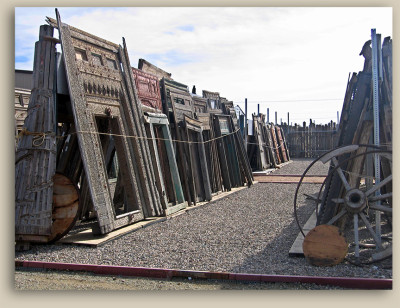 We also have a library that houses a collection of our previous work that clients can review, marking pieces to their liking.
In this case, the final product was inspired by the antique doors in our yard, seen above, and the image found in the library of a pocket door, done for a previous client, seen below. The antique door has a rounded overlay pattern that is accented with small clavos, and the pocket door has a squared overlay pattern, accented with large clavos.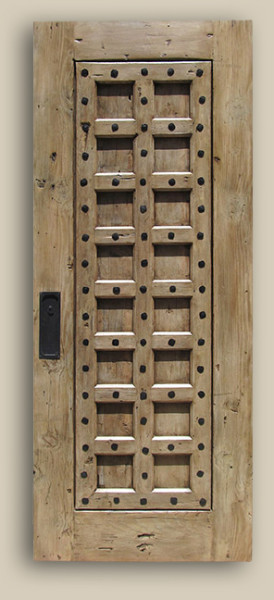 Taking elements from each, the new gate has a squared overlay patter that is accented with 42 small clavos on each side.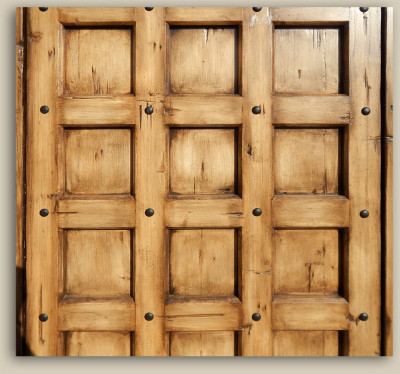 The back of the gate is also accented with small clavos.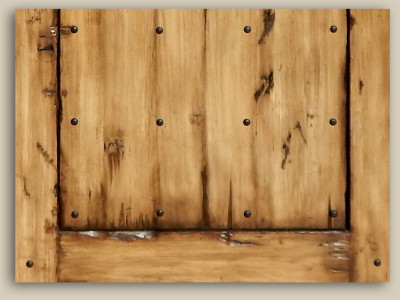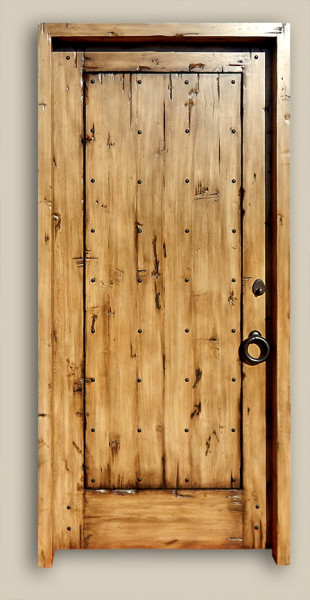 The project is a new build in Texas, with an entry tower at the front of the house. This is the gate for the entry tower.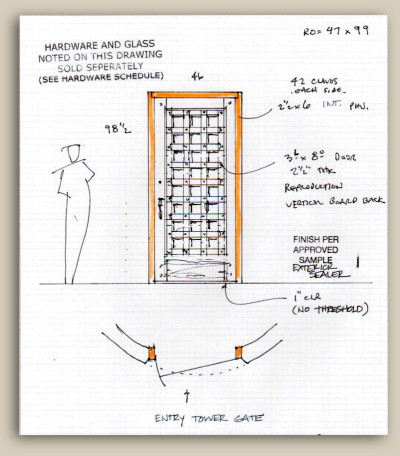 It is fitted with iron pull rings and a deadbolt with a teardrop key flap.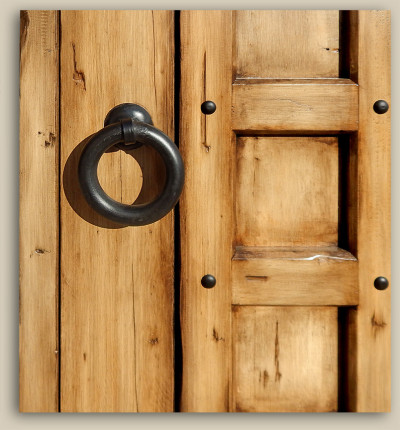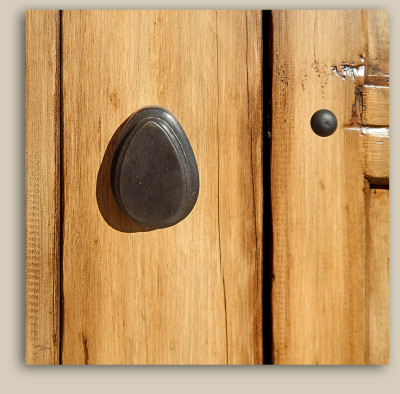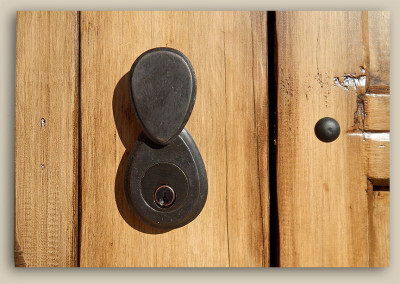 At over 8 feet tall and 2 1/2 inches thick, it makes a grand entry.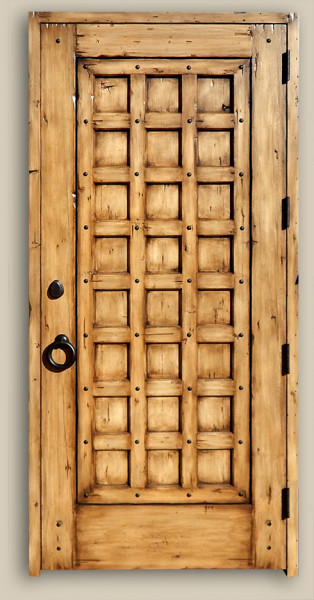 I hope to see you back here next week, with the fourth and final post of this series – a colorful Santa Fe entry gate.
Custom Gates Born of Salvaged Building Materials Title Goes Here
10.20.15
Gates made from salvaged building materials – reclaimed Douglas fir, carved panels from antique cabinet doors and hammered salvaged tin panels – for a Northern New Mexico property.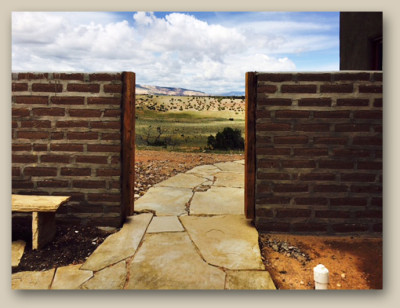 I have another set of gates to share. These are going to Abiquiu, New Mexico (entry gate site shown above), a little less than an hour north of Santa Fe. The area is probably most famous as inspiration for some of Georgia O'Keeffe's paintings. Here are six seconds from my phone after we had passed the most jaw dropping scenery and I switched to the passenger seat to take pictures.
The scenery there is absolutely stunning, with peach and sage mountainsides and very often, clear blue sky studded with fluffy white clouds. Not coincidentally, the gates are sage green with peach accents.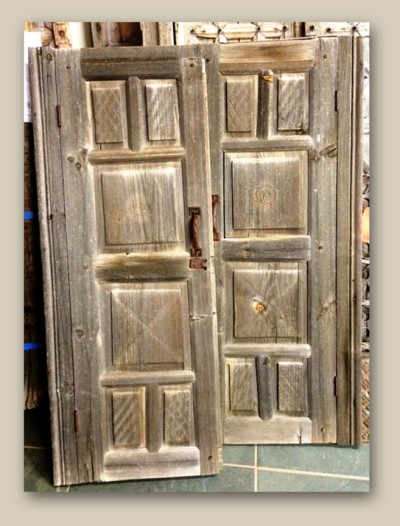 The first of the two gates was crafted using antique cabinet doors with carved panels and reclaimed Douglas fir. The gates are edged, top and bottom with salvaged tin that has been hammered flat and "quilted" with tiny nails.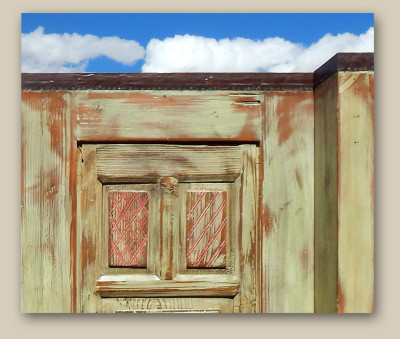 The gate has a cast bronze entry set with a lever handle, by Hardware Renaissance.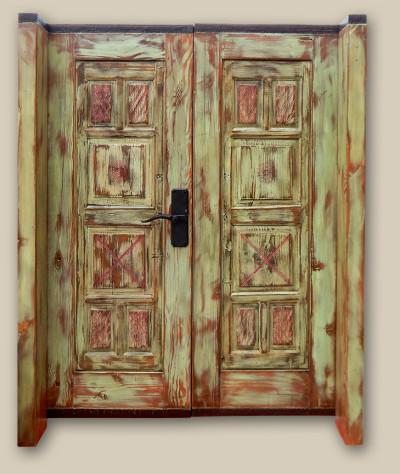 The back of the gate also has a foot bolt.
This is the site for the walkway gate. I guessed that it had something to do with a dog, and those furry little legs in the background confirm this is probably true.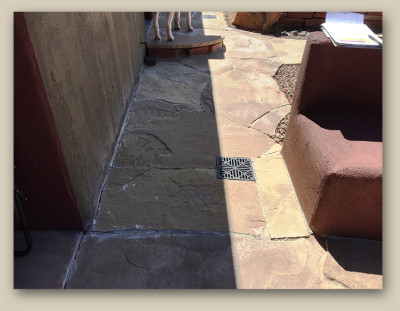 Our final image is the finished walkway gate. It is made with salvaged Douglas fir. It is trimmed, top & bottom, with the quilted reclaimed tin, fitted with custom grillwork, and shares the hand rubbed sage patina.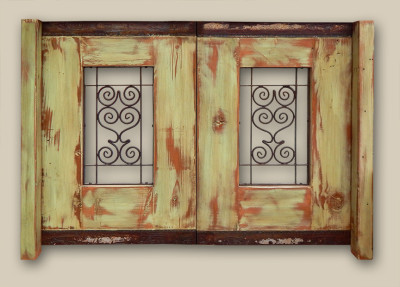 Antique Mexican Doors Become SoCal Gates Title Goes Here
10.12.15
Antique Mexican doors and salvaged woods are used to make a pair of matching courtyard gates.  Reclaimed tin is hammered flat and used to make a quilted edging on the tops and bottoms of the gates.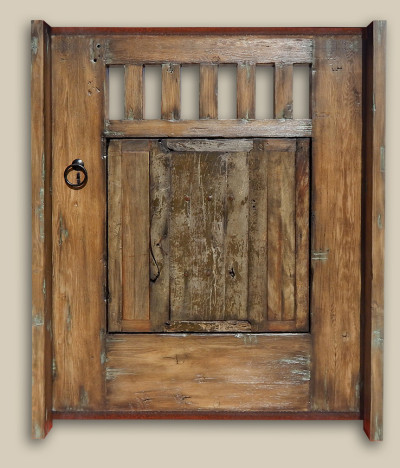 We have been having some great gates coming out of the shops of late. I featured six of them in a recent Facebook post and thought I would go into a little more detail in blog posts.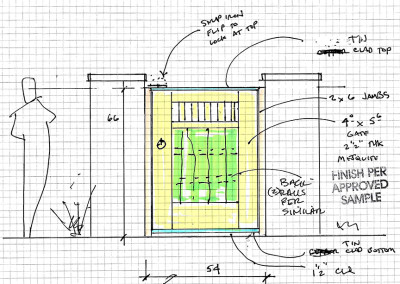 First up, we have a pair of courtyard gates that are headed to Southern California, near Palm Springs. In that area you have a lot of mid-century architecture and a lot of Spanish-style architecture and landscape design. These particular gates tend more toward the Spanish style. As you can see in the drawing, the gates are 66″ high, larger than they appear in the photographs.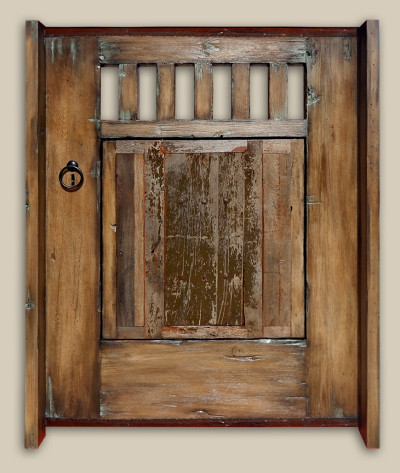 They were created using antique Mexican doors and salvaged lumber. In the photo above you can see the beautiful patina of the antique Mexican door panel. The back of the gate preserves the reverse of the panel with the original iron staples.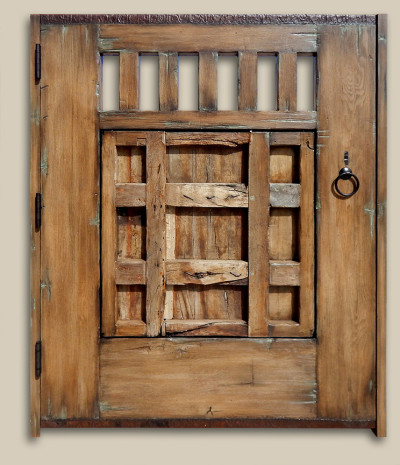 The tops and bottoms of the gates are trimmed with what we call quilted tin. Reclaimed tin is hammered flat and "quilted" in place with tiny nails.
The gates are outfitted with iron pull rings with round escutcheons, and ball catch hardware (not shown).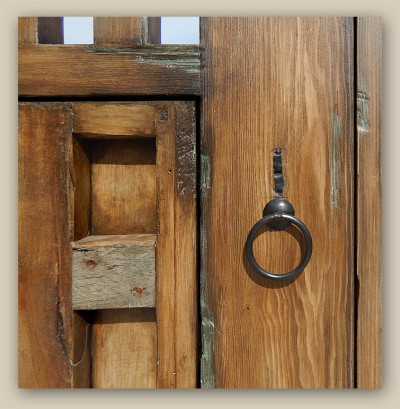 I love these handsome curling latches by Acorn. They are fitted at the top of both gates.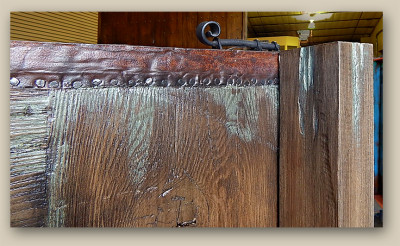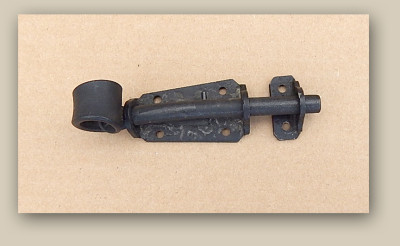 The hand rubbed patina protects the original finish of the antique Mexican doors, and daubs of green paint and a warm wax finish on the salvaged lumber parts of the gate compliment the antique finish. I must say, the overall effect is quite elegant.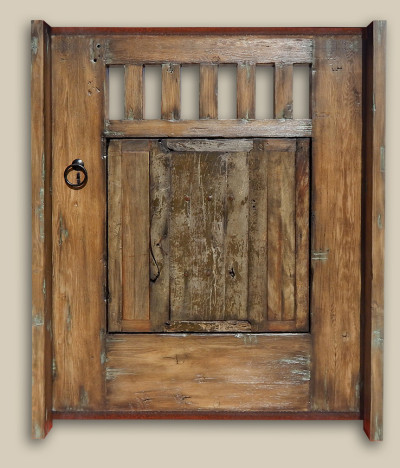 A Tale of Two Beds Title Goes Here
4.1.15
Beds crafted with architectural antiques – carved antique columns, corbels and surrounds.
Our story starts in the year 2000, a year before I even came to LPO.  Our client happened into our old location and was taken with a bed in the showroom. Usually the showroom is filled with finished product waiting to be shipped, but occasionally we have things for sale, and this was one of those rare occasions. I even found a photo of it that was taken in the parking lot.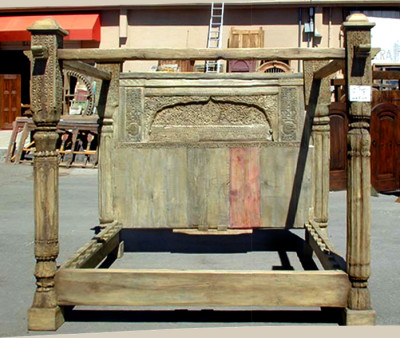 It is a fabulous bed, with great details, mixing antique columns and panels from an intricately carved antique door surround.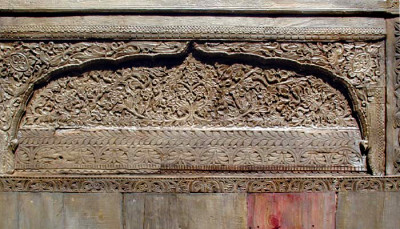 These door surrounds are amazing in their detail and variety. Some feature swirling carvings with floral designs and other images from nature, such as scales and leaves, while others feature geometric patterns, and some combine the two. It is fascinating. The bed is full of wonderful detail.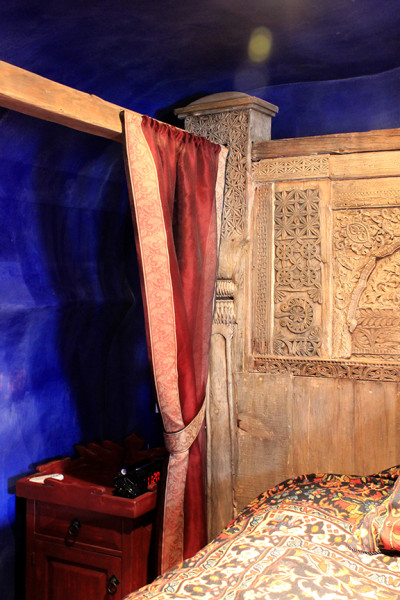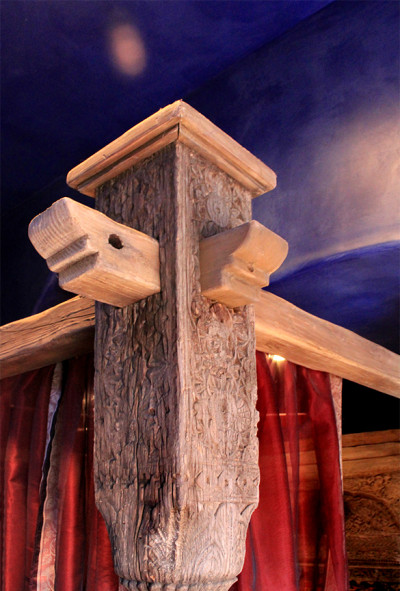 Fast forward to 2014, when our client decided she wanted a comfortable day bed for her living room, and that the people who made the original bed should be the ones to make the day bed. She told me that really, her only instructions to Scott were that it should be sized to accommodate an extra long twin mattress, she wanted curves, and she wanted the bed to include more of that fabulous carving. There was also one little detail that I will show you later.
So, Scott designed the bed, curves and carving included. Raw material was chosen.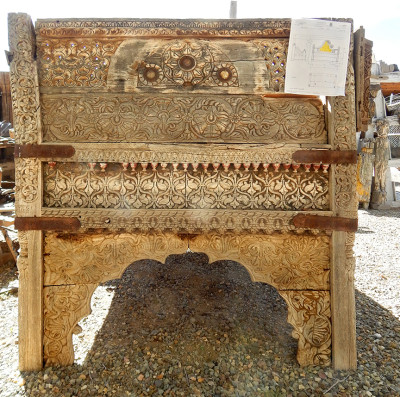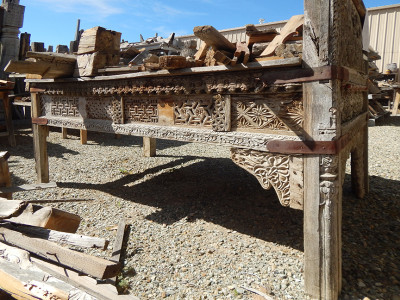 Our client approved the design and the raw material, and into the wood shop it went. It landed at Elio's table – he is an amazing craftsman. I still want to feature an incredible staircase that he did a couple of years ago, but we will get to that…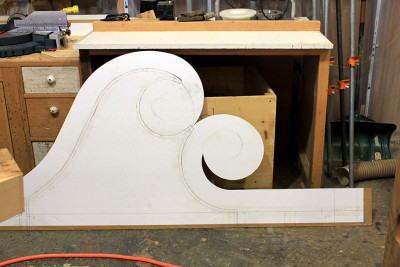 Working with the scale template for the curves, Elio works his magic. Look at the thickness! This is going to be one solid piece of furniture!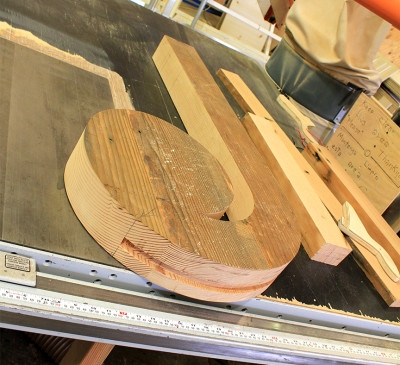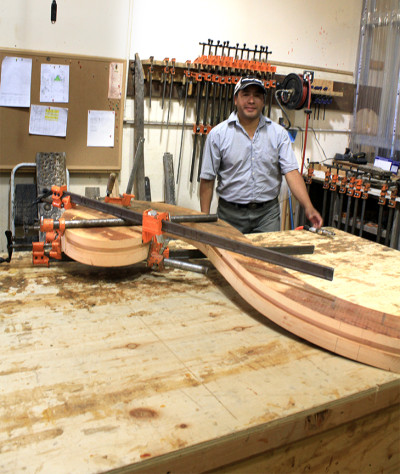 He also carved the twisting leg fronts.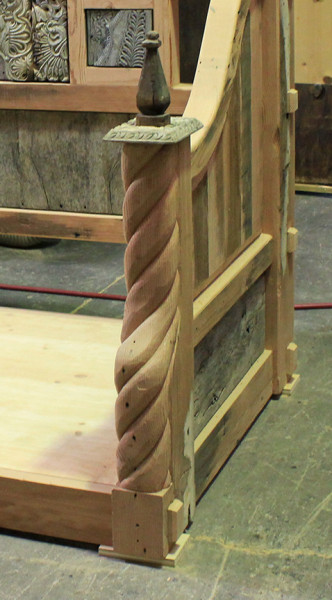 And then the antique material was skillfully incorporated into the panels and finials. While still in the woodshop it is easy to distinguish  the raw material, which is weathered and gray, and the newly crafted sections, which are made out of reclaimed Douglas fir.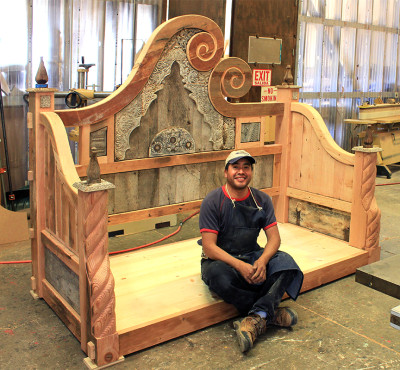 And in the photo below, we can see at the top left is the curve that was shown with Elio and the clamps, and on the right is the curve that we saw sitting on the saw table.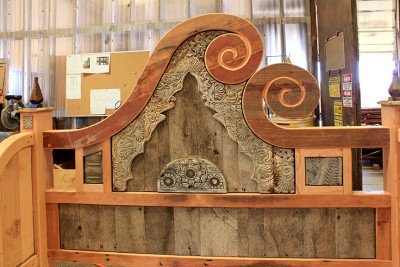 Next it was on to the finish shop.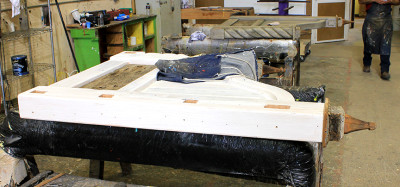 The finishes at La Puerta Original are multi-layer, and it is often surprising to see the different colors along the way. The side above is in the beginning stages, and the one below is further along.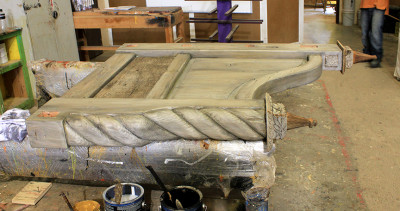 Finish samples are usually blocks of wood that we have finished to the client's specification, for approval. In this case, it was an antique panel that served as the finish sample.  I think we nailed it, no?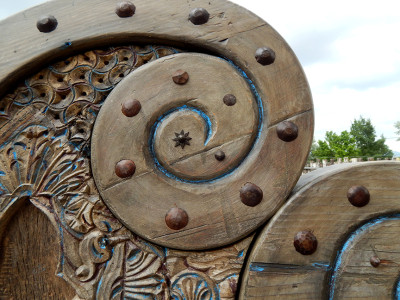 After the finish was applied, the piece was embellished all over with stars and clavos.
And then we have the completed bed. This is a huge hulking thing! Look at that! It weighs a ton, and has so many fabulous little details!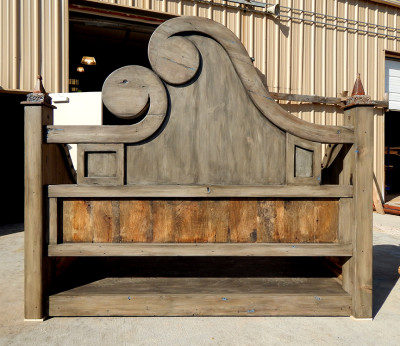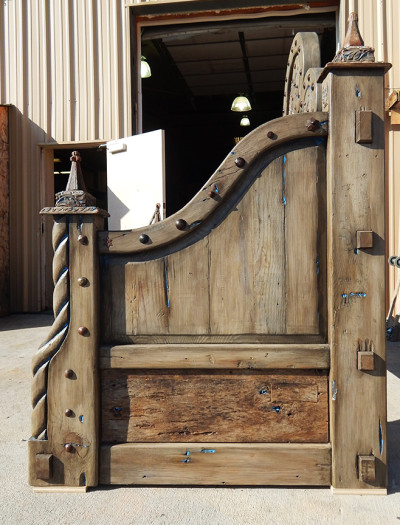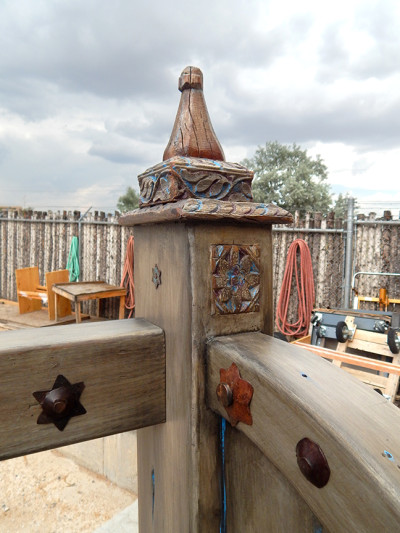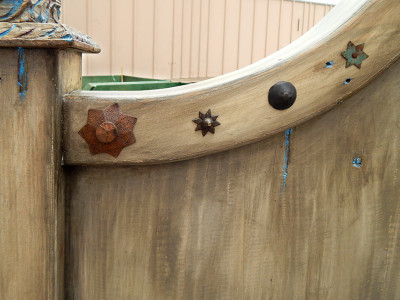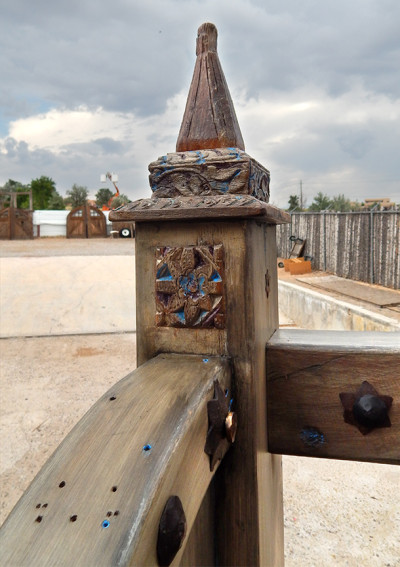 Mm! Mm! Mm! I just love that! I thought I would show you some of the ways that the raw material was incorporated. I am not going to do the whole thing, because there is just so much, but I do think it is fun to see how it all fits together.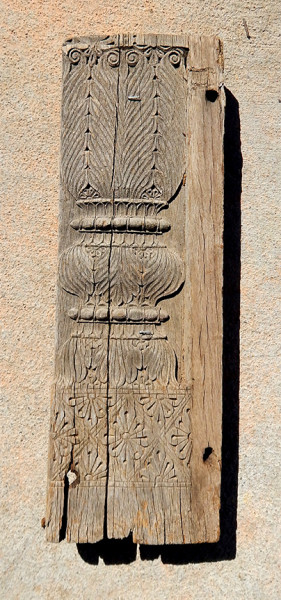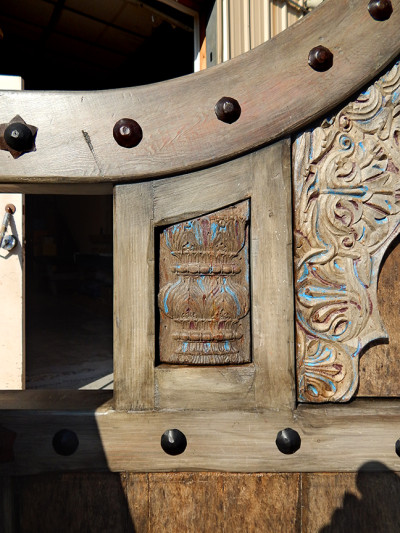 We saw some of the antique material in the photos earlier. Below I have annotated the photo with the placement of the original raw material, and where it appears in the finished piece, and then I will repeat the pics without annotation if you want to look at the details.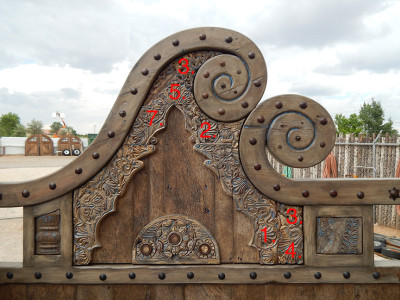 And we can't forget the finials! The finials themselves are from antique dowry chests, and their bases were set with more intricately carved material.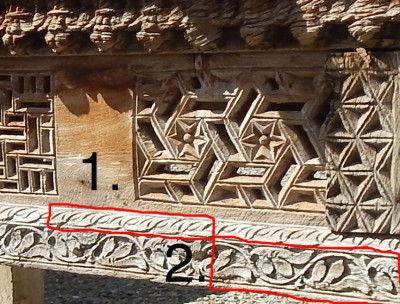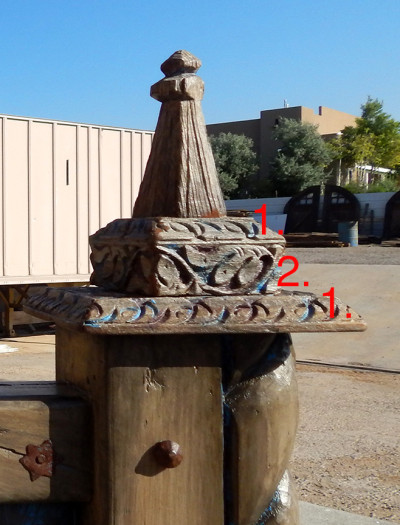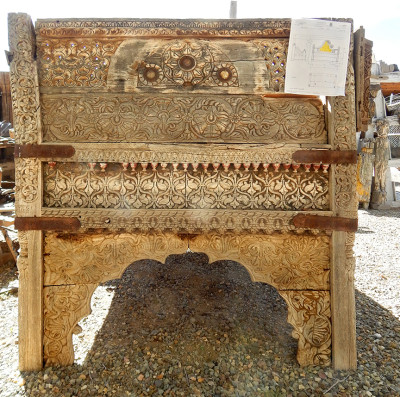 And finally, we have the installation photos. I was so excited to see the bed in place, and I was not disappointed. It is amazing how all this works together. The house has Moorish influences throughout, as you saw in the swooping alcove for the bed, and the daybed, continuing that theme, makes the living room.
And the little detail I told you about has to do with the left front finial. It is removable to be occasionally swapped out with a small statue.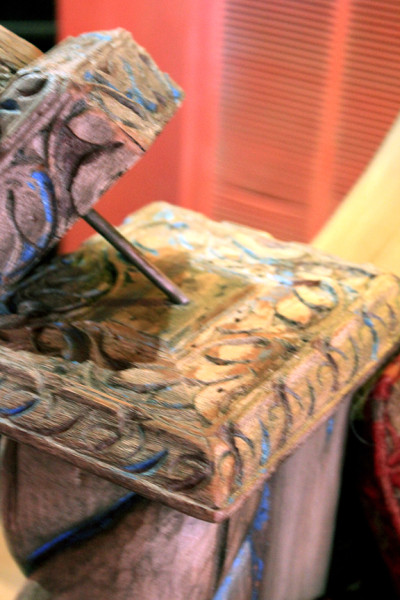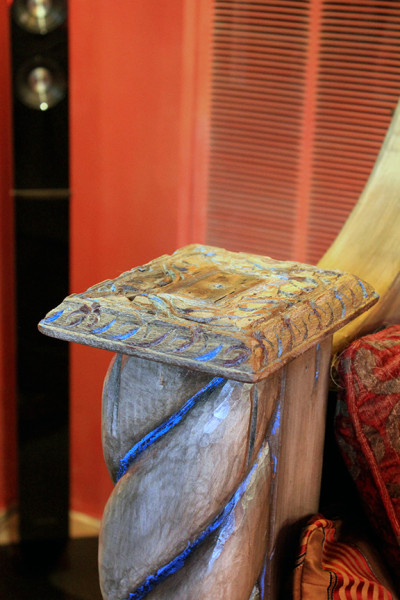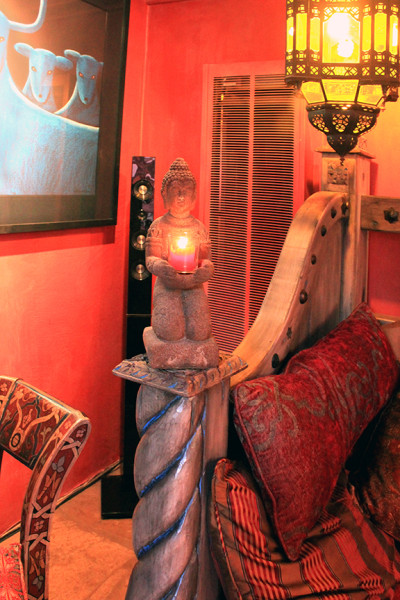 I would say it has been about 8 months since the bed was installed, and when I went to visit, our client was still so thrilled with it. Her little canine companions are too (they think it is theirs). It is one of the things La Puerta Originals does so well – combining form and function, for a function work of art! Thank you so much to our client for welcoming me into her home.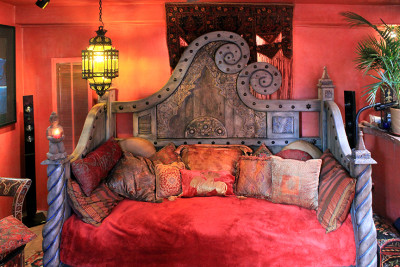 The Final Leg Title Goes Here
10.7.14
Featuring custom doors with carved surrounds and beds made from antique Mexican doors
Hello! I am back for the conclusion of our Canyon Road Tour, with the last of the installation images taken at a remodeled condominium on Canyon Road, here in beautiful Santa Fe.
I have to tell you, we are having a spectacular fall! The temperatures fell abruptly, the leaves are quickly turning and dropping, and the smell of roasting chile and burning piñon fill the air…Heaven!
In this post, the stellar photos are by Eric Swanson, the less than stellar ones were taken by me or the shipping crew, unless otherwise noted.  If the Canyon Road Tour is not ringing a bell, for the complete trek, you can read the previous posts, which cover the Gate and Entry, Living Room Area, Interior Doors, and The Kitchen.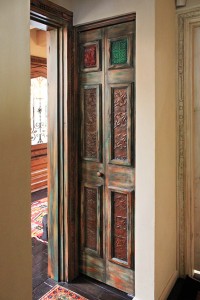 For this post, we look at the guest area.  Off the kitchen, through a doorway with a carved surround, we have the guest bedroom and bath, as well as linen closets with folding doors. The carved surrounds throughout the home are so fabulous, really setting off the doorways. It wasn't possible to get a long shot, but I loved the mix of textures and colors, so here is a detail shot. Remember that you can click on the photos to see them in greater detail, and this would be one worth a click!
The clients brought the original folding doors to us for a make-over.  The plain white doors were fitted with antique carved panels and antique pressed tin, then painted with a multi-layered hand-rubbed finish – a mix of red, orange, white and green.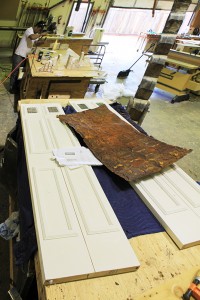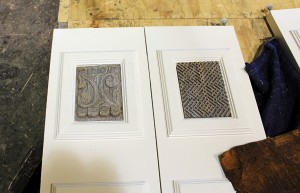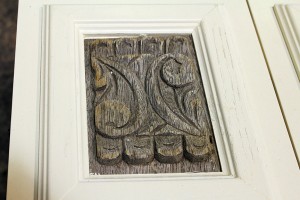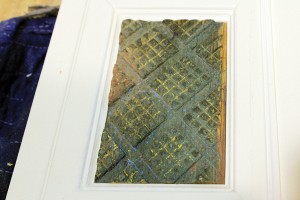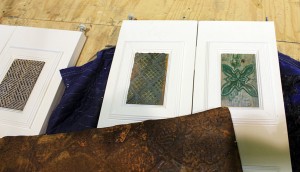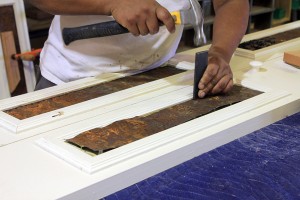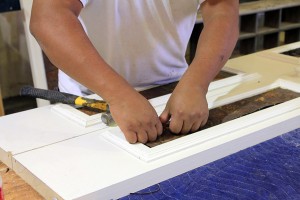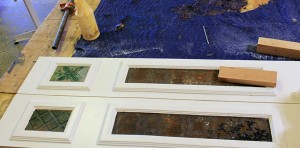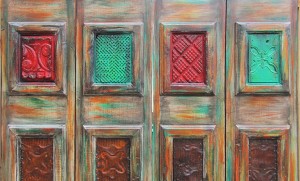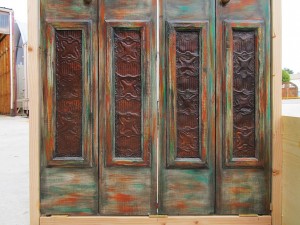 All through the shops the two sets of doors were together, like these entry closet doors: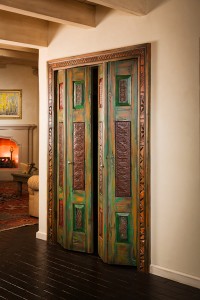 But they are actually two sets of narrow folding doors that will face each other in the hallway.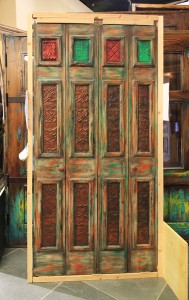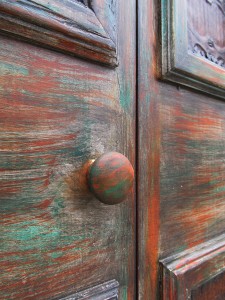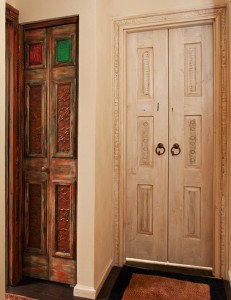 There is another closet, with a similar set of doors on the opposite side of the hallway. The folding doors are a great solution in a tight space.
To the left is the guest bathroom. Again, we have carved door surrounds, inlaid with carved antique material, finished this time with a hand-rubbed antique white patina.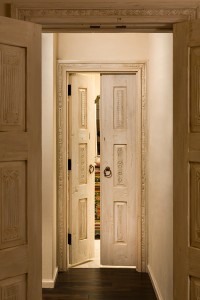 Here are some pics from the shops, to show more detail.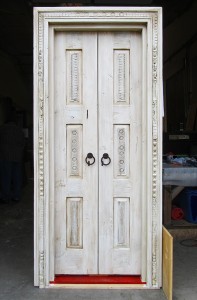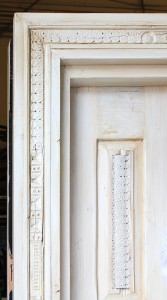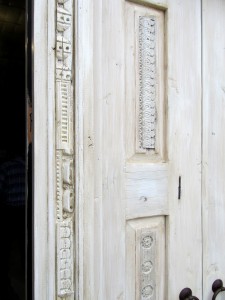 To the right, we have the guest bedroom. Originally the room was outfitted with these twin beds.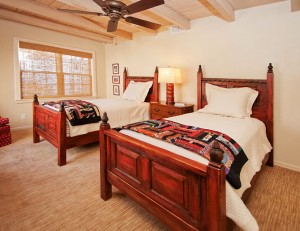 The above photo was taken by Doug, the D in D Maahs Construction, the contractor for the renovation.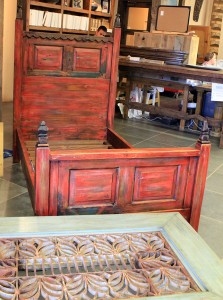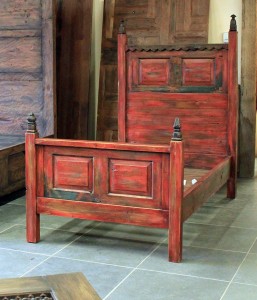 We are currently building a new larger bed to replace the twins, and while we normally don't have ready to go items in our showroom, this is a rare occurrence where these beds are available, for $6125 each, plus applicable shipping if you don't want to come pick them up, plus tax if you do. To read more about them, see an earlier blog entry that showed the placement of the antique material, etc. They were made with antique Mexican door panels and carved finials from antique dowry chests. The existing finish remained and was embellished with the red.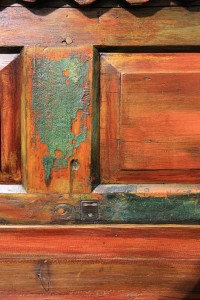 I just love the richness of the multi-layered finishes LPO does.
While the bath and bedroom entries are double doors, the bedroom closet is a single, with an iron pull ring, set into the carved surround.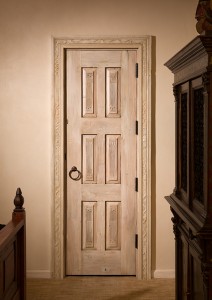 Such great details!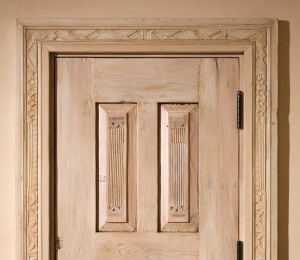 Yum!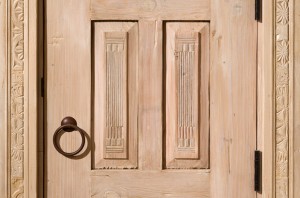 And finally, we have the bedroom entry doors, that mirror the bath entry doors, and some shop photos to show the details.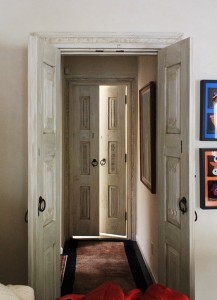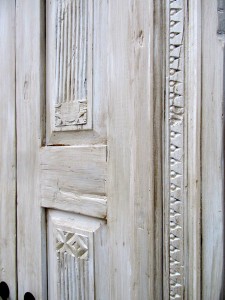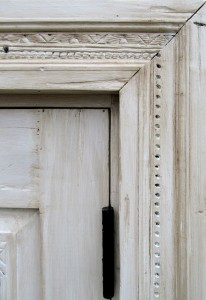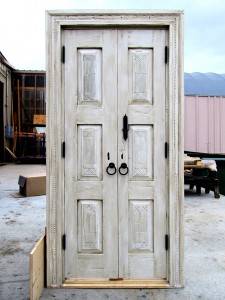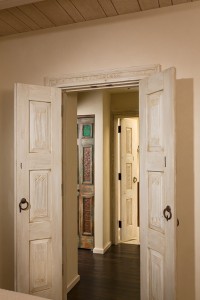 Thus we end our Canyon Road Tour. We thank our clients for generously letting us into their home and allowing us to share these photos with you. Until next time, I hope you are having a great fall too!
The End of an Era Title Goes Here
7.16.14
Custom kitchen design, custom doors and bathroom suite with carved custom vanity and antique columns
Today we have some really fabulous install photos of La Puerta Originals creations.  The custom kitchen features an intricately carved stove hood made with antique corbels and carved panels.  The refrigerator has wooden panels that match the cabinetry. In the mix there are also photos of lots of La Puerta Originals doors, grilled transoms, free-standing and built-in cabinets and vanities with matching carved mirror frames.  That's all I will say, because sometimes it is better to let the pictures do the talking.
Finishes Applied Title Goes Here
6.11.14
Once out of the wood shop, our finishers take over. Working from the approved sample, they apply, usually in a number of layers, non-toxic, water-based patinas, resulting in a finish that has depth and complexity.