La Puerta Originals on the Radio
5.26.13
La Puerta Originals hosts open house and radio broadcast – the mini tour includes custom interior and exterior doors, an elaborate refrigerator surround, the finish shop and the showroom
When I was taking pictures around LPO last week, I went into the milling shop, and thought about the fact that I don't go in there much.  It's partly because when the guys are in there, they are usually working with very long pieces of wood and saws with GIANT teeth.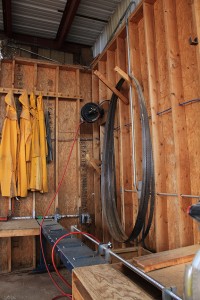 In the photo above, those are saw blades hanging on the wall, and those are long rain slickers on the other wall, to give you a sense of scale.  So, I don't want to get in the way, or worse.  Plus, because it is partially open to the wind, the sawdust is flying more heavily than in the other shops, which is a pain with my camera which is already suffering from an elusive piece of dust that I am going to have to find, and soon.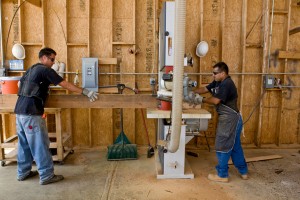 This is a photo that professional photographer Sara Stathas took when she braved the sawdust several years ago.
And then I was thinking, hmm, there are a number of parts of La Puerta Originals that I have never shown in the blog.  So, I decided it was time to do a Tour of La Puerta Originals entry.  In the meantime, while I write that and take and gather photographs for it, I present to you a mini-blog entry on LPO's Cinco de Mayo Open House which featured a live broadcast of the local radio program, All Things Real Estate, with Rey Post, the eVite for which you see up top.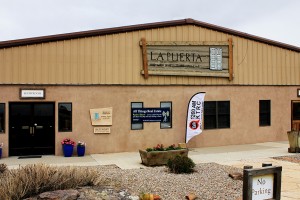 It was held, as you might guess, on Sunday May 5th.  The weather, which, for the previous several days had been glorious and sunny, was dark and windy, threatening to rain.  Not very Cinco de Mayo-ey – more Day of the Dead-ey.  Miguel corralled some of the shop guys to help him move things around in Scott's area to display the recently finished pieces more like a showroom, and some festive decorations were added.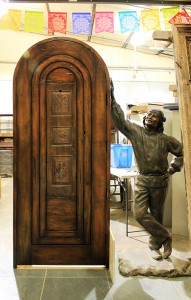 Scott, ever Mr. Whimsical, had them move the Glenna Goodacre Indian Scout bronze to abut this door.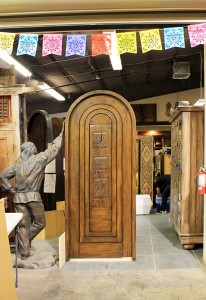 We need to do something like that all the time, because usually he is just hanging around with his hand in the air.  He needs something to lean on (don't we all?  ar, ar).
We served appropriate fare of chips, salsa and guacamole, quesedillas and salads.  Craig created a Pandora station of festive Mexican music that played in the background.  There were a surprising number of kids there.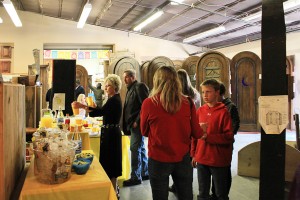 Tours were given by: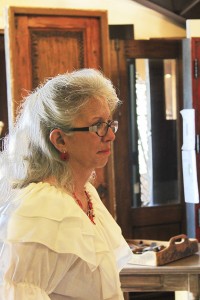 Cyndi, Operations Manager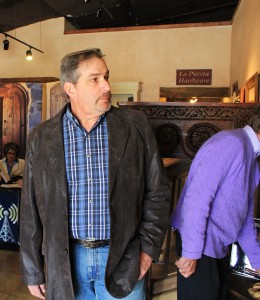 Craig, Senior Project Manager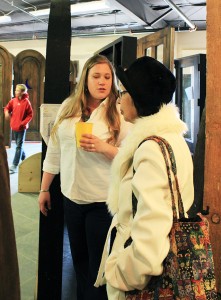 Christina, Client Service Manager/Design Associate
And, of course Scott & Melissa pitched in when those guys were out and about with people.  It was fun seeing little groups wandering around.  The tours were of the antique materials yard, the wood shops, metal shop, finish shop and hardware installations area.  Each shop had at least one representative, and they were giving demonstrations.
Rigo stopped singing long enough for me to take this picture.  The finishing demonstrations are actually quite interesting.  All of the finishes involve multi-step processes, with some having many more steps than others.  For example, what he is working on in the photo looks as though the finish would ultimately be orange, when in fact the pieces are for this wine bar, shown incomplete in a progress photo below, and will match the dark brown finish.
The multiple steps give the finishes depth and complexity that you just don't see much in modern day furnishings and doors.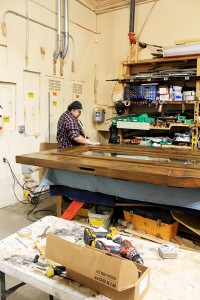 Above, we have Richard doing his hardware installation demonstration.  He is installing hardware on this amazing door: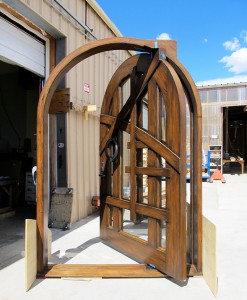 It will definitely be in a future blog entry, and if you follow us on facebook, the Giant Knocker that Melissa posted last week is a detail shot of this door (we got several interesting "likes" for that one).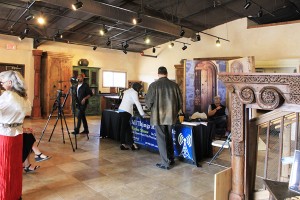 The radio station set up in the showroom, and their sound guy also put some speakers under a surround back in the finish shop (see below) so that those wandering around could hear the broadcast (can you guess what that fabulous surround will surround?  I will tell you at the end).
They had several guests from the local community, but since I was running around taking pictures, making sure the platters and bowls were full, etc., I didn't hear any of the broadcast, or who they were.
They interviewed Melissa and Scott, both together (here Scott busts me taking a picture),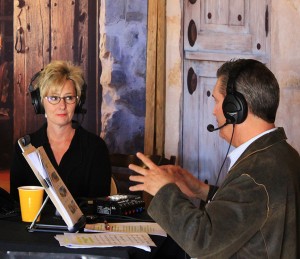 as well as separately (aaah!  don't laugh!).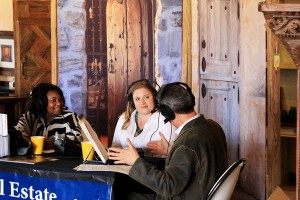 They interviewed Christina, who made it through the interview in spite of her husband's teasingly "helpful" suggestions for not flubbing it.
And they also interviewed Lori Pearson and Chris Kramer, the husband and wife team behind TrafficDeveloper, the fab company that designed our website and works, basically, as you might guess, to bring traffic to our website.
And then it was all over!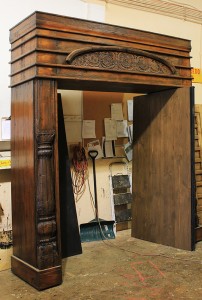 The radio people packed up and left, the guys closed up the shops and swooped in on the buffet table for lunch, and then we packed up all the leftover food to put out for everyone to nosh on throughout the day on Monday, when it was back to work as usual.  The End.  See you soon for the tour!