Come on in! Let me show you around!
6.16.13
Tour La Puerta Originals, the shops and the antiques yard featuring treasures such as antique Mexican doors, columns, Spanish Colonial doors, ironwork and more
As I stated in my last blog posting, I realized when I poked my head into the milling shop, that there are parts of LPO that I have never shown in the blog, and I felt it was time for an overview, a tour of sorts.  It's a big place, so it's gonna to be a long'un, and then I think I will go back to doing smaller posts more often.  In the meantime however, sit back, get comfy, and let me take you on a tour.La Puerta Originals is owned by Scott & Melissa,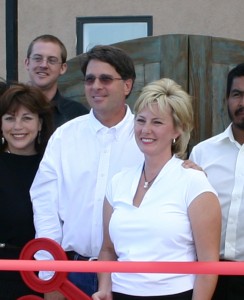 strongly supported by Ruthe and the late Ken, Scott's parents,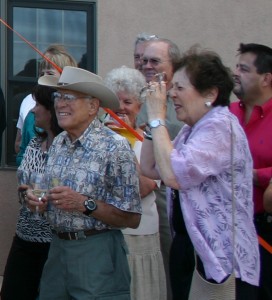 and populated by a plethora of dogs,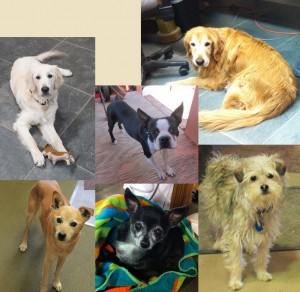 Scout, Chica, Nutra, Cricket, Campbell & Chico, just to name and show a few.  It is definitely a family affair.  We have brothers and fathers and sons working in the shops, and a lot of the employees have been here for years.
LPO puts on a good party, be it for the Christmas holiday,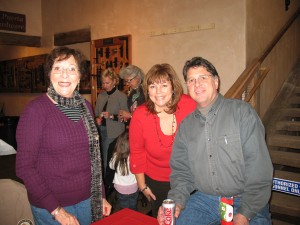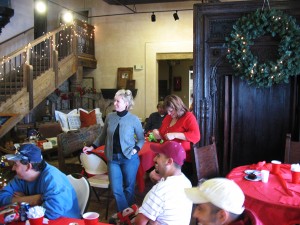 birthday celebrations,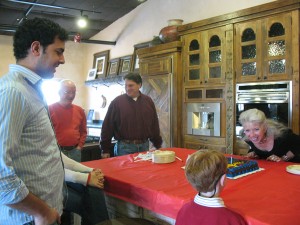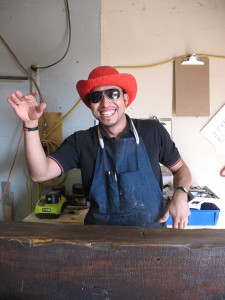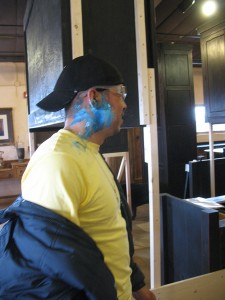 or just a BBQ.  The guys grill some mean meat – they bring their comals and grills – the competition is fierce.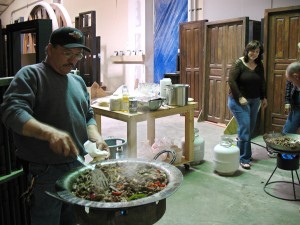 And it seems everyone (or everyones' wives) make great sides.  Big feasting.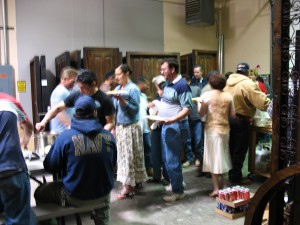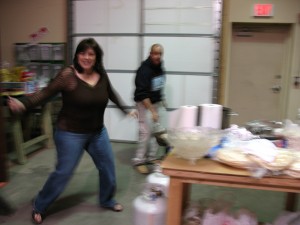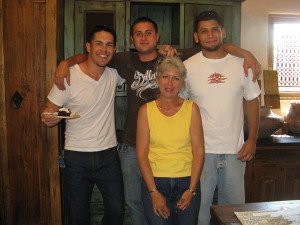 For the Christmas party, Ken & Ruthe used to make everyone a loaf of zucchini or banana bread, a feat nothing short of amazing, considering the number of employees.  Sometimes we have had live music, or Rigo brings his favorite tapes of Mexican music – very festive – and often sings along.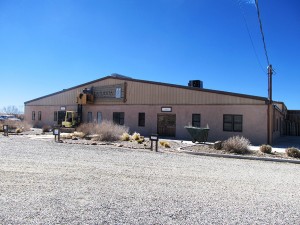 We are in what is referred to as, "the old Mesa Steel building".  Though I don't know where, I know they are still around, because that is where we get our supplies for the grillwork, accents and other items that are custom-made here in the metal shop.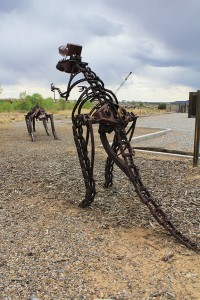 Speaking of metal, in the parking lot we have these dinosaur sculptures. They are quite large, created from recycled metal, everything from motorcycle gas tanks, to gear chains to railroad spikes.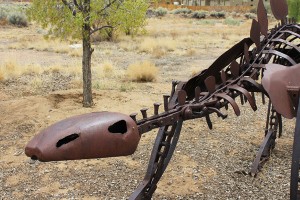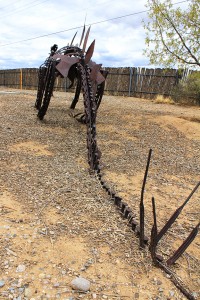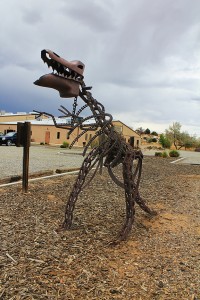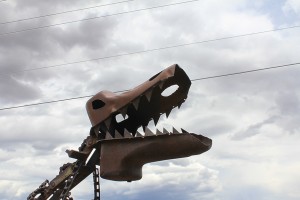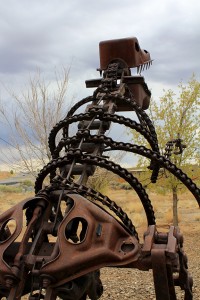 They were at the old location, and had to be transported, along with all the yard inventory.  I would have loved to have seen how they moved them.  That is one of the great things about living in Santa Fe – there is so much going on in the art world.  There are tons of public art projects, and even the big power boxes on the street corners are painted by local students.  It is so fun to see a big truck moving sculpture, especially kinetic sculpture that is doing its thing as it goes down the road.  I guess I am not the only one who feels this way since smack dab in the middle of the front page of Friday's New Mexican was a photo of a shrouded statue being transported down 599. (Pojoaque Pueblo Governor George Rivera's statue of Medal of Honor recipient Leroy Petry, on its way to City Hall, where it will be installed.)  The best though was last year:  Police cars with flashing lights blocked off traffic on St. Francis Drive, and we could see something was coming down the road with a slow police escort.  While we were waiting, we were like, "oooh, is Obama in town?",  "Is something going on with Susana Martinez?", " Is it a local luminary's funeral procession?".  And then a flat bed truck appeared, moving slowly behind the numerous police cars, and we could see that the truck was transporting Zozobra's head!  I guess the police escort took him all the way to Fort Marcy Park!  Anyway, I hope the dinos were moved on a flatbed, where everyone could see them, and not in the box van.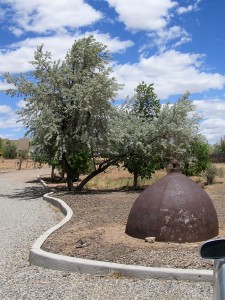 Another great metal installment on the property (that again, had to be moved from the old location – I'm thinking there must have been crane rental going on) is this piece.  I had always assumed it was a cupola to a building, but, turns out, it was part of a boiler on a steam ship that sank off the San Blas Islands and washed ashore.  The islanders got it in 1925 and used it to store fresh water.  They had abandoned it as a water tank about 20 years prior to Scott's 1989 visit, and by then were using it to wash clothes.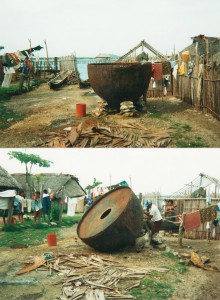 Scott thought it was amazing and hoped to one day make a sculpture out of it.  When it was moved to this location it was placed in the parking lot, sort of as a roundabout, but Scott kept backing into it, so it was moved to safety, up over the curb.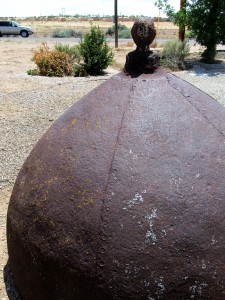 I think that it was once painted yellow and blue.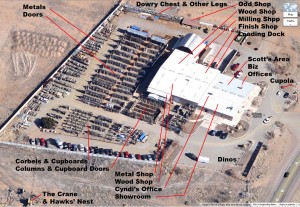 I have annotated a screen shot of Google maps to show the layout.  You should be able to click on it to see it in greater detail and read the labels (or even print it to refer to as we go along!).  And if the light looks a little funny in some of the photos it is because, once again, we have wildfires burning in the area.
The back fence runs parallel with I-25 and the railroad tracks.  Along the fence is where metal and some of the wood fragments are stored.  Antique pressed tin, strapping, antique hardware, pipes – if it's metal, that's where it'll be.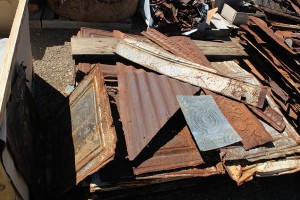 But mostly La Puerta Originals is about WOOD.  Wood, wood, wood.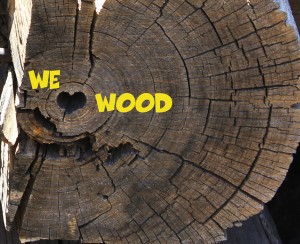 In the annotated photo, you can see in the middle of the yard, the two sets of row upon row of doors and surrounds.  Below is a closer photo of that area.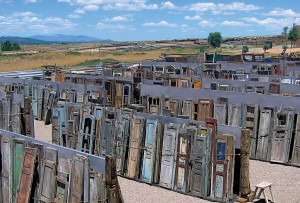 Further down, closer to where the guys park is the corbel and cabinet area (you can see the cabinets in the foreground, the corbels off to the left there).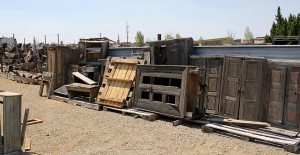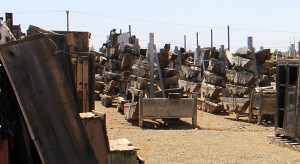 Next to that area is a miscellany of antique sugar cane gears from the Amazon in Brazil, canoes, giant mortars, and even a bathtub (I have no idea).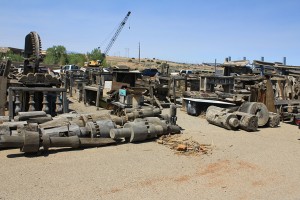 The area with the columns also houses cabinet doors and fragments.  The columns line the fence, making the area feel almost like a room.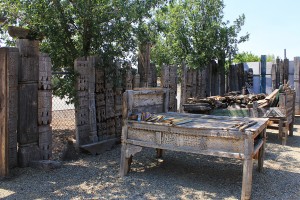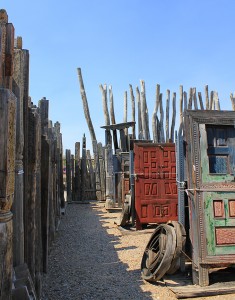 And when we say that we recycle and use everything, we mean everything.  Check out the photo below – all those fragments!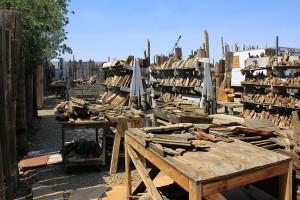 We just received a HUGE shipment of raw material.  Wood, wood, wood!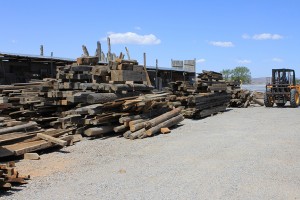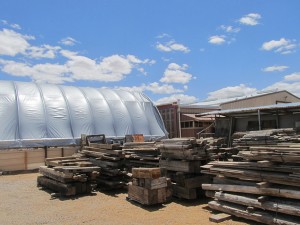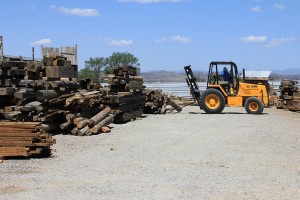 Columns,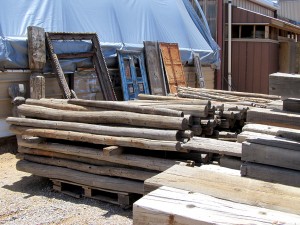 beams – the one in the photo below is bigger than my head (and I have a big head – cabezuda being one of my nicknames),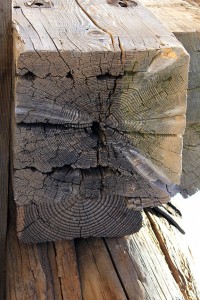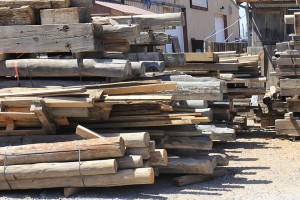 door surrounds,
salvaged lumber,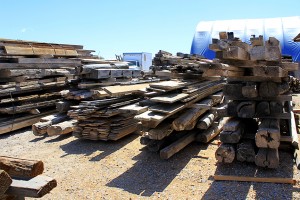 deconstructed barns,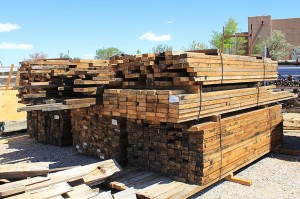 an old outhouse and some primitive machinery, like this thing with a hopper,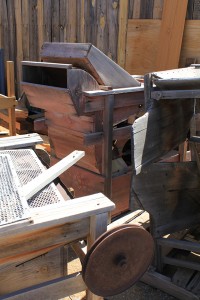 even a trestle or part of a bridge.  This thing is massive.
Yes, we heart wood.
Also on the annotated view, I have pointed out the locations of the various shops.  Starting from the left side of the building, we have the metal shop.
It is difficult to photograph the interior because of the windows lining the top of the wall.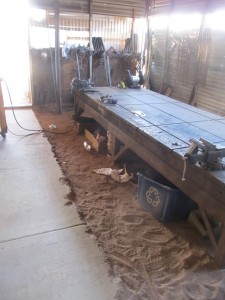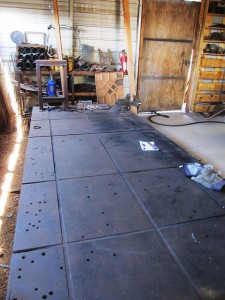 The top of the table is solid metal.  I am wondering if that didn't come with the building, because I don't remember anything like that in the old location.  But then again, I didn't explore the old site as thoroughly as I do this one.  Now it is my job to explore.  How fun is that?  Showing the metal shop in use, we have Cristobal welding the edges of one of the antique window grills that I have discussed in previous entries.
He is immobilizing the edge pieces that are usually imbedded in the window frame.  This shop is where everything from elaborate grillwork to small clavos are made.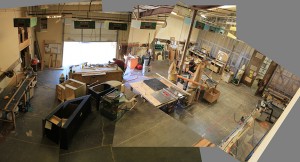 Then we have the two wood shops.  Since I couldn't do it perfectly and seamlessly, I put the photos together roughly, to give you a general idea of the sweep of the rooms.  I don't think there is anything in particular that differentiates them, there just happens to be a door in the middle.  Each guy has his own work area and smaller tools, the larger equipment being shared.  There are a number of different machines, a dizzying array of saws, sanders, etc., and giant vacuums that suck up all the sawdust.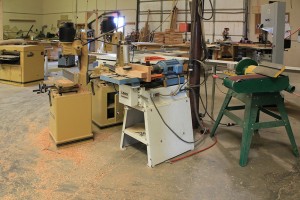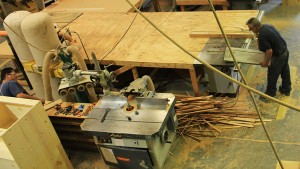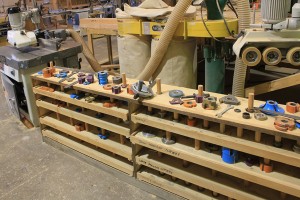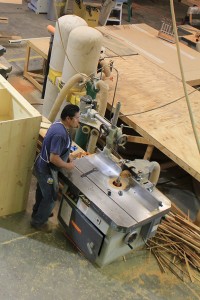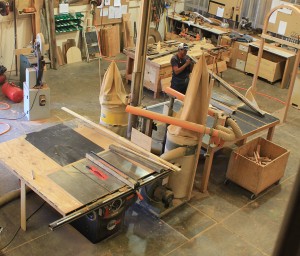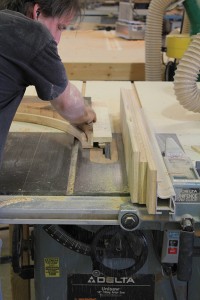 I don't know what this is below, but it sure looks mighty scientific with the tubes and wires and all!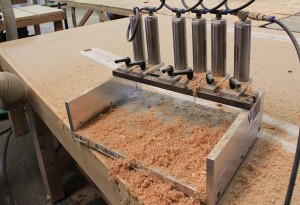 There are stations with industrial-sized mechanisms for clamping large pieces of wood while being glued, and a gabillion free clamps in a gabillion different sizes.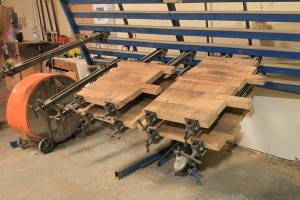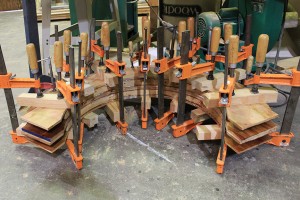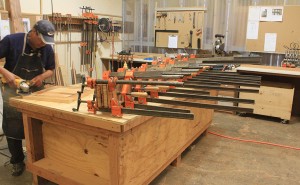 And while there are all of these modern, fancy dancy, mechanized tools, there are also a lot of the more primitive hand tools.  Much of the work that LPO does has an antique or rustic look to it.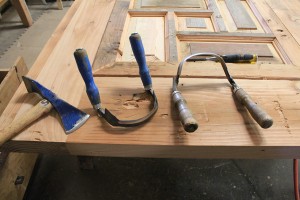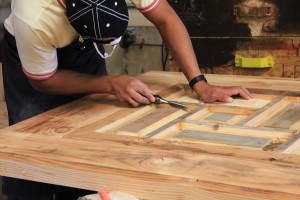 And these are some of the tools used to make that look, not some slick electric tool.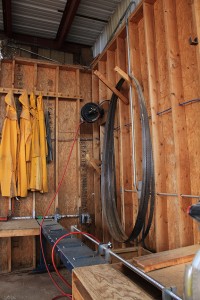 Next to the second wood shop is the milling shop.  Above is the pic I showed you before, with the raincoats off to the side giving you an idea of the size of those circular saw blades, and now I want to show a close-up detail of the band saw blade teeth.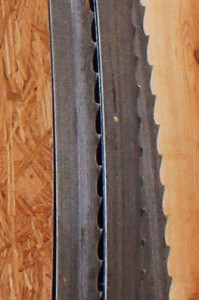 Yowie!  The milling shop is different than the wood shops, in that it isn't someone's work station, it is more like the various areas in the wood shop with shared equipment, and the area is just used when large pieces need to be milled.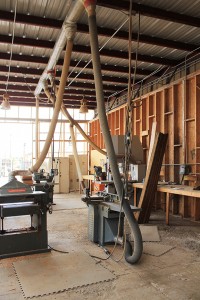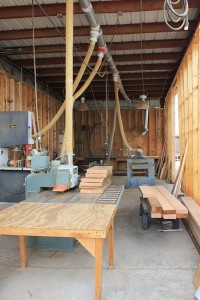 Sometimes it is in heavy use, such as when we are doing a project that has flooring or wainscoting, etc., and sometimes it is empty for days.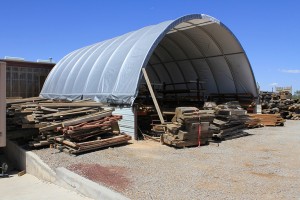 Outside of the milling shop is the big silver dome.  It's a great landmark when giving directions, because it is huge.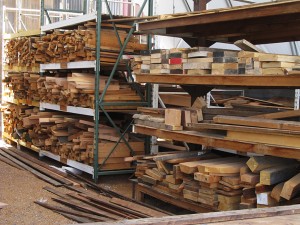 It is used to store lumber, whether an entire deconstructed barn, or the reclaimed Douglas fir that we use so much.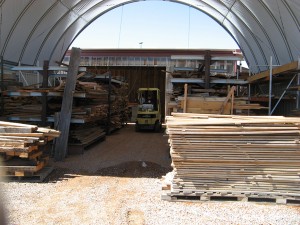 You can see how huge it is in this photo, as you can see the forklift driving inside.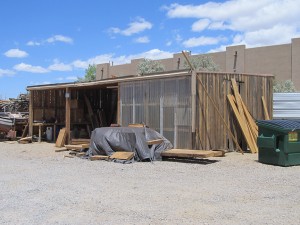 Across the yard from the silver dome is what I have come to call The Odd Shop.   I think is sort of a rougher version of the milling shop.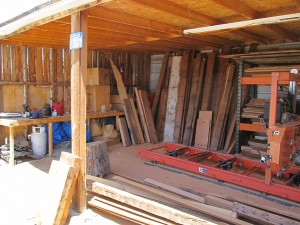 I have seen chain saws in use there, and the red machine you see in the center of the shop is a sawmill for cutting the really big stuff.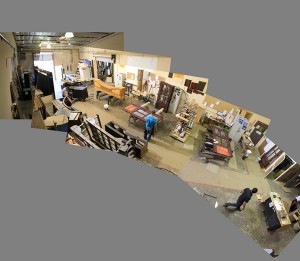 Hopping back across the yard, back to the main building, we have the finish shop which runs the entire length of the two wood shops, bookended by the break room on one side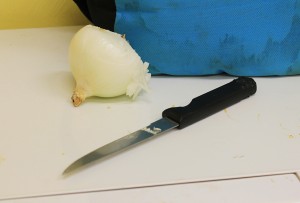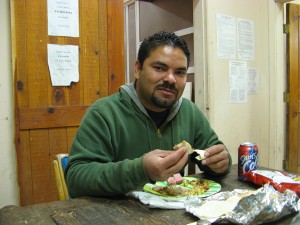 (where the guys always seem to be eating good, fresh food, not fast food, which is nice to see), and the loading dock on the other.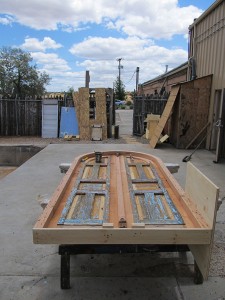 The finish shop is where the magic happens.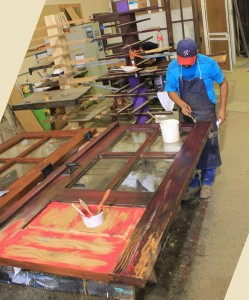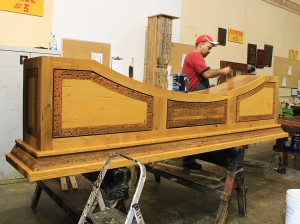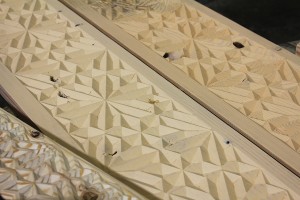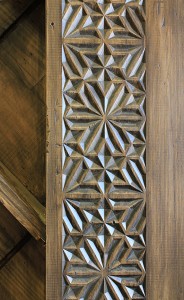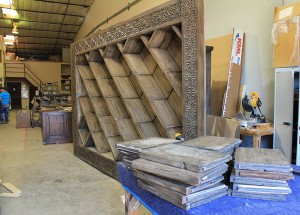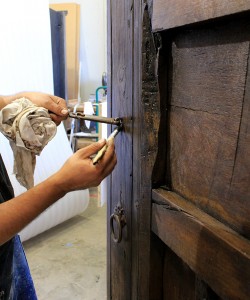 Here the guys, true artists, can match any patina, from mimicking one hundred years of use, to giving the wood the look of aged mesquite, to blending five different colors in a finish that has richness and complexity.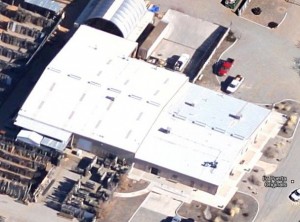 As seen in the aerial view, the building kind of looks like two buildings put together.  We have covered the back building, housing the metal, wood, milling and finish shops, so now on to the front building.
Coming through the rollup door from the finish shop, or the side door from the parking lot, is Scott's area.  I think of an office as having a door and a dedicated work area, whereas this is an area that serves many functions.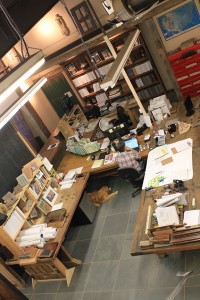 Scott has his work area (the dedicated Campbell by his side there), seen above.  To his right there is a long table for client and staff meetings, behind which, across from Scott, there is always a bunch of raw material leaning against the wall for him to refer to when doing his drawings.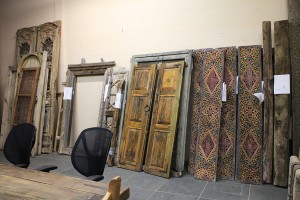 Christina's work area is there, there is another area with an entire wall dedicated to the output schedule for the coming months, and then there is a really large area that is generally used to store finished product while it awaits shipment,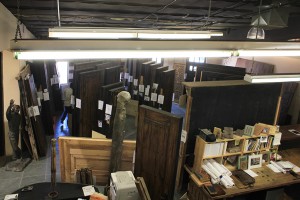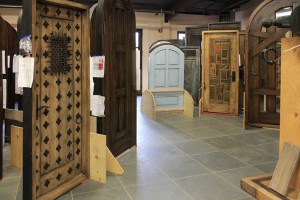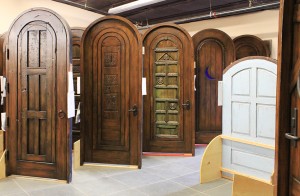 but is also sometimes used for other things, such as a large enough space to assemble an entire kitchen cabinet package for photography.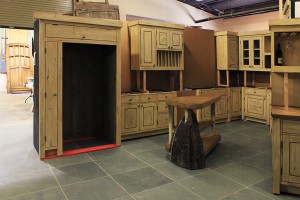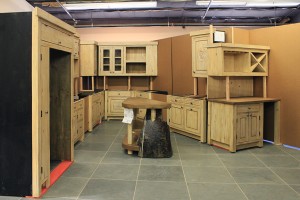 (We just might be able to get installation pics of this kitchen – it is here in Santa Fe!)
Through a pair of double doors leading from Scott's area, we have the business offices.  These are the CAD, finance, Melissa's and my offices, all surrounding a little kitchenette with table.  The kitchen cabinets are sad leftovers from the old Mesa Steel days, with one of those aggravating, useless little bar sinks.  This is like the cobbler's children have no shoes.  The plans are drawn up for a snazzy new little kitchen with a reasonably sized sink, but there always seems to be another rush project that gets put ahead of it.  A good problem to have, I suppose.  Since my office is a part of it, I feel free to say that our area is probably the most boring, so I will move on through.
Rounding the corner we have Craig's area and then the showroom.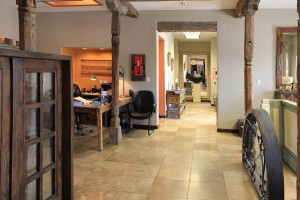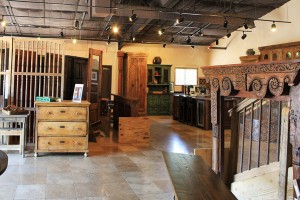 The showroom is always changing because it also serves as overflow of finished projects that are waiting to be shipped.  Often we are doing packages for new construction, and they have to be shipped at a specific time when the build is ready to receive and install the items.  Often this happens in stages, as different areas of the house get built.  It is great to have these items arranged on display, because being a custom builder, we don't usually have items that people can just buy out of the showroom, and it gives us items to show when people walk in to tour LPO.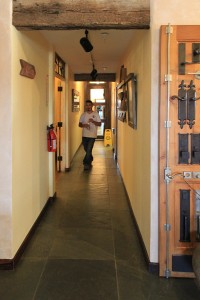 And then in the corridor between the showroom and Scott's area, is the library, on the left (and drinking fountain and restrooms on the right, if you must know).  The library had its own blog entry some time ago.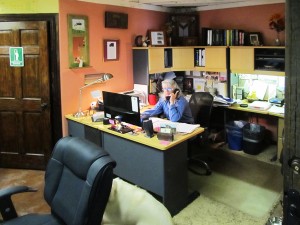 Next to the showroom is Cyndi's area.  Cyndi has both an office and an area, which suits the many hats she wears.  Her title is Operations Manager, which is a big umbrella covering the many areas she oversees, including an unofficial function of Doggie Daycare (that is Scout there between the chair and her desk in the above pic), since she has a gate and the space to let the dogs hang out when their people go to lunch or to client meetings, etc.  Her area is a great one to explore, and she gives me free reign.  Cyndi has been at LPO even longer than I, and she has a great sense of the historic value of things and a great aesthetic.  Her office has all sorts of fun relics, from prototype patchwork proposed for a door, to the antique door accent, shown below, that she rescued from the metal shop where one of the guys was using it as a bowl for soldering supplies, to one-of-a-kind samples.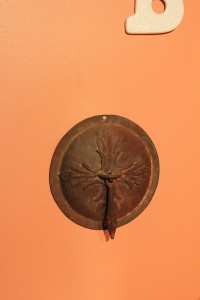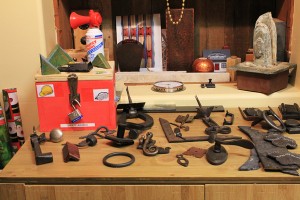 You could also say her office functions kind of like the nurses office.  There is the emergency shower and all the first aid supplies.  (Speaking of historic value, above the door is the original drawing Scott did for the LPO building sign you saw at the beginning of this entry.)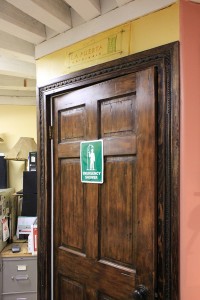 And then in Cyndi's area (as opposed to her office), there are myriad hardware displays.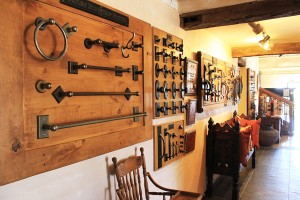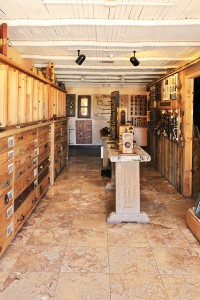 On the walls, on the tables, in cubbies and drawers, there are all sorts of examples of hardware, new, replica and antique.  There are different handles on all the drawers, and each drawer holds a different type of hardware.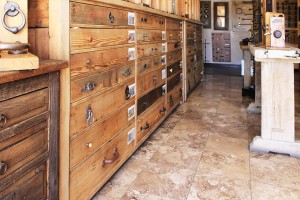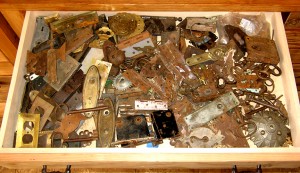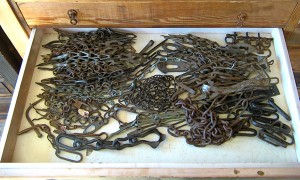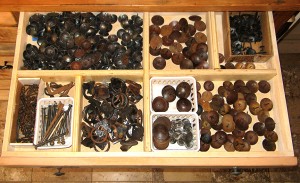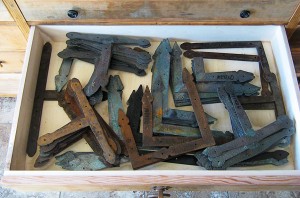 The cubbies above the drawers hold samples of different kinds of glass, like bubble glass that is either clear or colored, mirrors that are distressed or beveled, screens ranging from thick and rustic, to fine brass.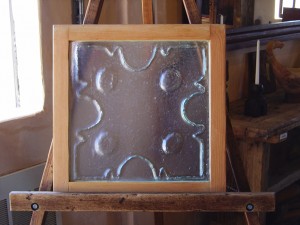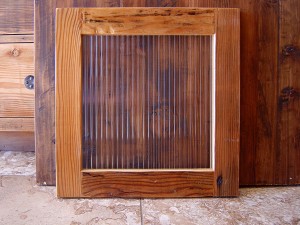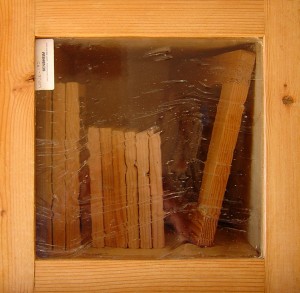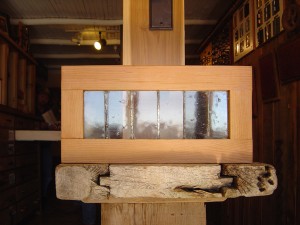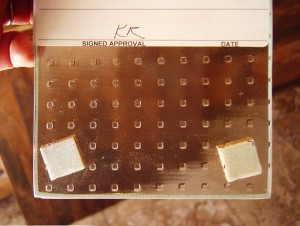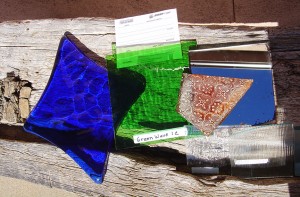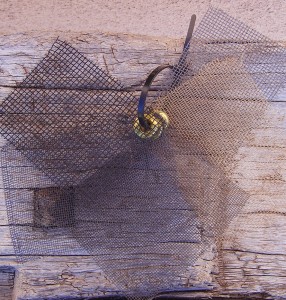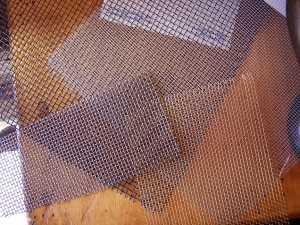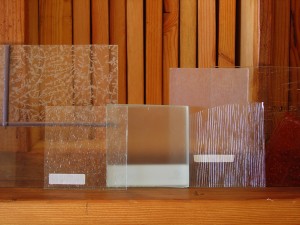 It reminds me of playing in my mom's jewelry box when I was a kid.  There is just so much to touch, look at and explore and everything is displayed so artistically, I just love poking around in there.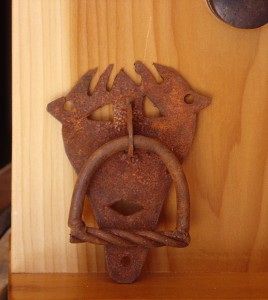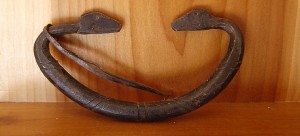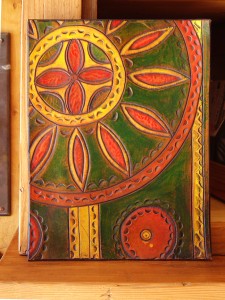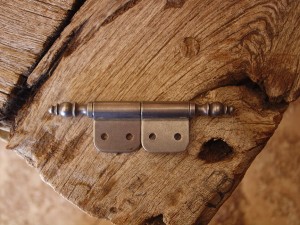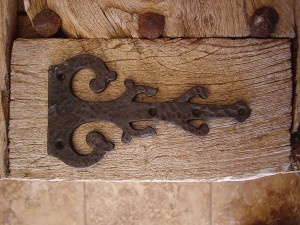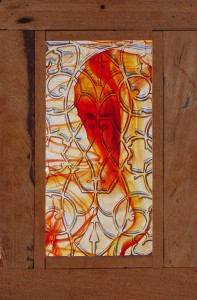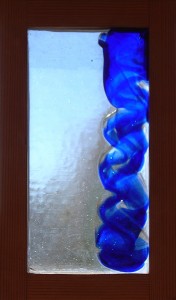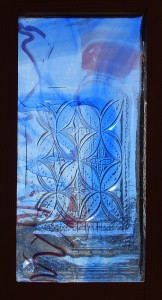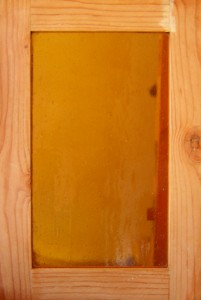 The finish sample room is in there too, tucked off to the side of the hardware displays.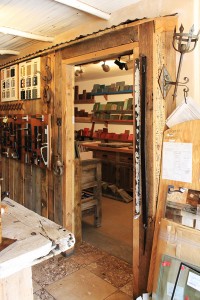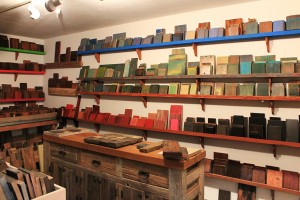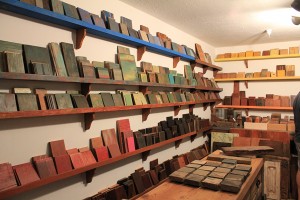 Like I said, so much to explore, I probably could have done an entire entry on this area.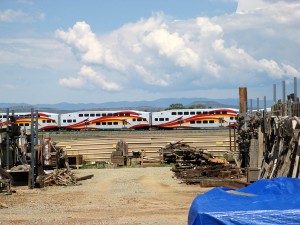 As far as the general area where La Puerta Originals is, we are in the county, in what used to be a pretty isolated area, but there is a lot of building going on around us.  We now have the Rail Runner Express, the train that goes to Albuquerque (though not to the airport – how dumb is that?), which runs right by us.  It must be pretty quiet, because I am rarely aware of it.  The logo of the Rail Runner is a road runner, of which I have seen quite a few running around the parking lot.  And to go with the road runners, not to be cliché or anything, but we have coyotes.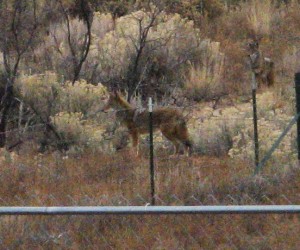 I have already written a bit about the hawks who have a nest in the crane.  I haven't checked them out in quite some time.  I went to look at the graffiti we had seen from the freeway, on the back of LPO's wall and they were there.  One of the parents started screeching the minute I walked onto the field.  The juvenile was sitting quietly on the crane, just observing me.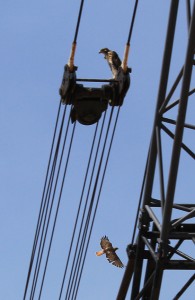 Eventually the other parent came back and also started screeching at me.  It went to land in a nearby tree and a small bird flew out of the tree and, shrieking hysterically, managing to chase it away from what I assume was its nest.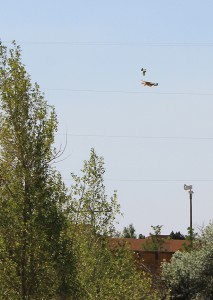 I walked up under the crane to get a shot of the juvenile and it eventually took flight.  You can tell the difference because the wings are perfect – no damage or missing feathers, like the parents.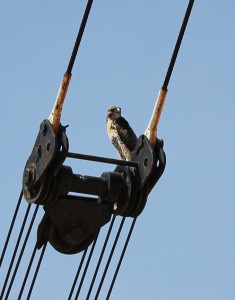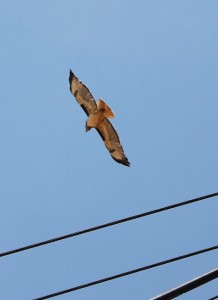 One of parents sat at the top of the crane, still yelling at me until I left the field.  Here are a couple of pics of them flying (don't forget, you should be able to click on the photos to see them in more detail).  I thought the last one was interesting because I think you can see some of the mechanics/aerodynamics of flying going on there, either that, or it is the awkwardness of a new flier.  The head is sort of pulled to one side, and the tail feathers are at an angle.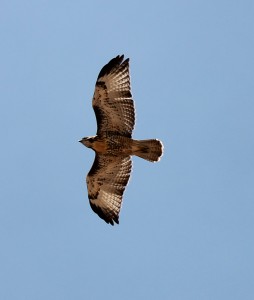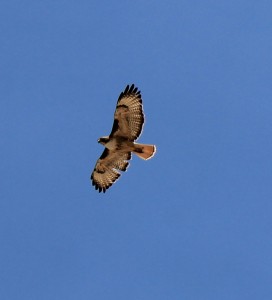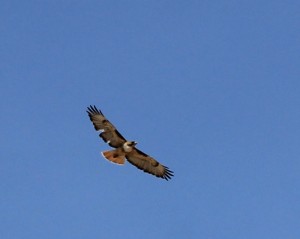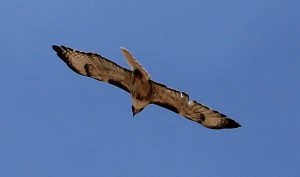 So much nature action!
While I don't approve of vandalism, I did think that the graffiti was pretty funny, pointing the way to Pecos.  There were photos of it in the work that I picked up that day, so I am sure it will be gone soon, if it isn't already.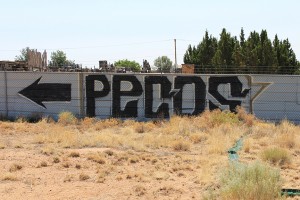 We also have lizards, rabbits, and skunks, one of whom surprised Antonio in the dumpster (fortunately, Antonio didn't surprise it).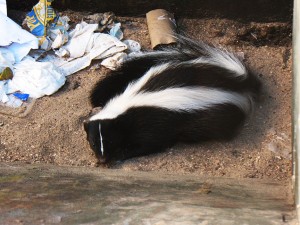 We have had the odd cat/kitten show up.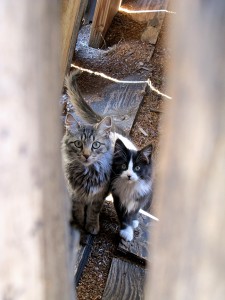 The film industry is big in New Mexico in general, and there is a hub of activity in this area because there are several nearby ranches that are used in filming.  Recently The Cowboy Church moved in next door, but part of the building is also occupied by a company that has something to do with the film industry, maybe a small sound stage.  Down the road a ways is a big sound stage, Santa Fe Studios, which opened last year, I think.  I just looked them up to make sure they were really open, and they said that they had elephant doors.  I looked up the definition of elephant doors and in the search results were photographs from my first blog entry, about a pair elephant gates!  The ones we have are from India and they have large iron spikes on them to keep elephants away.  The ones for the sound stage are very large doors that accommodate the large equipment used in filming, as well as blocking out noise.  You learn something new every day!  I could not tell you whether these caravans, shown below, have to do with the church or the movie industry.  All around the time the church moved in there appeared a bunch of wagons, and then last week there were these caravans.  If they are film props, I would say to keep your eyes peeled for them if you see the movie Jane Got a Gun, which is filming here now, or maybe even the television series Longmire, which is also currently filming (Craig and I are both fans).  We see a lot of interesting stuff going in and out of the parking lot there.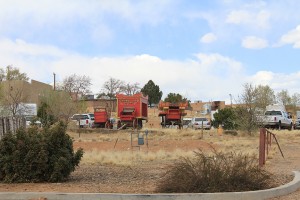 Well, I hope you saw a lot of interesting stuff here today.  Phew!  That was even longer than I thought it was going to be!  I hope to be back soon with a considerably shorter posting featuring some of the latest to come out of the shops – as usual there are some amazing pieces, and I can't wait to show them here.  Check back with us soon!